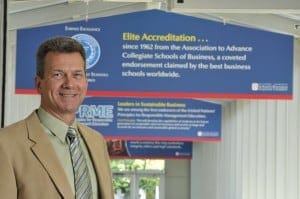 The field of supply chain management has become critical as more health care organizations use supply chain strategies as a way to differentiate themselves in a crowded marketplace.
Organizations need innovative leaders with the vision and skill to manage their supply chain and to help solidify their long-term competitive advantage.
Supply chain management programs, like the one offered at Duquesne University, will prepare students to enter this dynamic and challenging field.  In 2007, Duquesne began offering two health care supply chain management programs—a joint effort among the Mylan School of Pharmacy, Rangos School of Health Sciences, and the A.J. Palumbo School of Business Administration. Pharmacy students can earn a Bachelor of Pharmaceutical Sciences in Health Care Supply Chain Management. At the time, this was the first degree of its kind in the nation to be offered by a school of pharmacy.
Business school students can earn a Bachelor of Science in Business Administration with a supply chain management major and a healthcare supply chain management track. This involves completing the required courses for the supply chain management degree along with three additional courses in health care supply chain management. Currently, it is the only program in western Pennsylvania that is administered by an internationally accredited school of business.
"The program is designed to offer business students some flexibility with their degree when they graduate," says Dr. John Mawhinney, Director of Supply Chain Management Programs at Duquesne University. "Since they earn the same education and background as a supply chain major, they are not limited to working in just the healthcare industry. This just gives them more flexibility in their career choices."
The health care portion of the curriculum is taught by pharmacy faculty while supply chain portion is taught by business faculty. The program is designed to prepare students for dynamic careers with organizations such as medical device manufacturers, pharmaceutical firms, hospitals, medical supply distributors, and other segments of the evolving health care industry.
Whether you're a pharmacy or business student, the health care supply chain management program introduces students to elements of the supply chain in the health care system, including purchasing, operations, and distribution. They also learn about the American health care system, its terminology, and the ever-changing information technology in the system.
According to Dr. Mawhinney,  nearly 20 business school students are enrolled in supply chain management degree with a health track; about 10 pharmacy students are enrolled in the degree program.
"In the end, we graduate business students with a medical background and pharmacy students with a business background," says Dr. Mawhinney.
This specialized study was added after Duquesne's supply chain management advisory board recognized the need for such a program. Some members of the health care community sat on the advisory board and it became evident to them that were opportunities in the field.
"When we did a search, there were very few undergraduate programs in the country offering health care supply chain management," says Dr. Mawhinney. "There were some certificate programs offered through professional organizations and associations, but there was no full 4-year-degree institutions in the region. Even today, there are only a few programs that offer this course of study."
Looking ahead, Dr. Mawhinney sees a greater demand for graduates with a health care supply chain management background. He states that the field has further gained momentum as the health care industry continues to consolidates.
"As organizations such as UPMC and West Penn Allegheny have aggregated their operations, there is a tremendous opportunity to reduce costs by aggregating buys, and controlling and negotiating prices," he says. "Large health care systems are trying to become more efficient and effective in how they purchase and distribute materials and services within their organizations. UPMC has put together a tremendous health care supply chain management team over the last ten years, that has saved them a great deal of money, improved the efficiency and effectiveness of health care delivery, and had an impact of the total cost of health care."
In addition to UPMC and West Penn Allegheny, Duquesne has also placed graduates in health care supply chain management positions at places like Mylan, Respironics, and Medrad.
"It's a great opportunity and there is a lot of potential for health care supply chain improvement across many health care organizations," says Dr. Mawhinney. "Health care supply chain management is making significant impacts on many organizations. It only benefits an organization to have a person in place who has a business background as well as an understanding of the healthcare systems, processes, and terminologies."
For more information, visit www.duq.edu/business and search for "SCM-Health Care Track."
Daniel Casciato has his own business as a social media consultant, freelance copywriter, ghostwriter, and ghostblogger. The Pittsburgh native loves his Steelers, Penguins, and Pirates. Learn more at www.DanielCasciato.com.