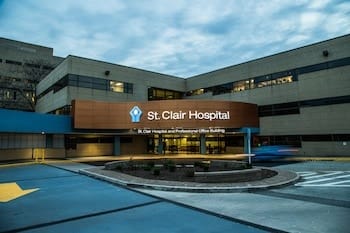 The birth of a baby is a moment parents will never forget. The staff at St. Clair Hospital's Family Birth Center is committed to making sure it's an exceptional experience for the entire family to cherish. Housed within the hospital, the Birth Center offers an environment designed for family-centered care and focuses on providing a comfortable, caring and safe environment for all family members.
Each of its private LDRP (labor/delivery/recovery/postpartum) rooms provides a warm and comfortable setting supported by state-of-the-art technology. The Family Birth Center's team of doctors and nurses is highly trained to provide delivery, post-partum and newborn care for mothers and their babies. The center delivers about 1,350 babies a year.
"We're very proud of our organization," says Kristi Faust, OB Clinical Educator for the Family Birth Center. "There is  a real warmth to this place. We welcome families to be involved and we take great pride in providing high quality care to all members of the family, not just the patient."
A Level 2 Nursery is also available for infants who require extra care. The nurses are specially trained in advanced newborn care and provide individualized care to the family and their baby throughout the course of their stay.
St. Clair Hospital's Professional Advancement Ladder (PAL), a program for nurses to receive incentive for patient care improvement, recently honored the commitment of its Family Birth Center nurses. These nurses are fostering compliance with exclusive breastfeeding and screening for congenital heart defects, both programs recommended by the government nationally.
Nearly one percent of the population is affected by congenital heart defects that often can go undiagnosed for many years. Early detection of serious forms of the disease may improve health outcomes for babies born with this condition. In July, St. Clair Hospital implemented a critical congenital heart defect screening—one of several hospitals in the Pittsburgh area that have decided to do this during the initial hospital stay. This non-invasive procedure is usually done on babies after 24 hours of life.
"It's as simple as measuring oxygen saturation in two different places on the baby," notes Faust. "It's a screening so there can be some false positives. If they don't pass the screening, we refer them to another facility for follow-up if necessary."
Faust says that while it's currently not a mandatory screening for babies, it could soon be for all infants in the state as mandated by the Pennsylvania Department of Health.
"We decided to do this because we wanted to keep up with the evidence-based literature and research that is out there," says Faust. "We thought it was a great way to be proactive and a great service to offer to our patients and their families. It's better to find something early and refer them for further investigation if necessary."
The doctors and nurses work closely with mothers from pre-natal care through delivery and post-natal treatment to ensure they will experience a healthy pregnancy. The center's exceptional level of care is reflected in the high satisfaction scores it receives from patients. All of its obstetricians are board certified and a board-certified pediatrician is on staff 24 hours a day. In addition, the center currently has 45 nurses on staff, usually with seven nurses working per shift.
For student nurses, Faust finds that their rotations through the Family Birth Center are one of their favorites.
"Oftentimes, they are mainly dealing with the beginning of a new life as opposed to some of the end of life situations that they might occasionally encounter in other units in a hospital," she says. "But I think that it's eye-opening for them when they actually see the birthing process from start to finish, and how much work is involved, how many complications there can be, and how highly trained the staff has to be."
For more information on the Family Birth Center at St. Clair Hospital, call 412.942.5895.
Daniel Casciato has his own business as a social media consultant, freelance copywriter, ghostwriter, and ghostblogger. The Pittsburgh native loves his Steelers, Penguins, and Pirates. Learn more at www.DanielCasciato.com.