You must have already heard about what inversion tables can do for your health. In fact, it is one of the most talked-about health devices in recent years. Did you know that you can get numerous benefits from this type of equipment? People know that inversion tables are helpful for inversion therapy sessions, but more than that, they can be used to improve one's health and well-being.
To know the characteristics of the best inversion table, below are what you need to know.
What Is An Inversion Table?
An inversion table (also known as an inversion chair) has become an increasingly popular piece of therapy equipment over the years due to its ability to help improve the circulation of blood in a person's body.
It is an apparatus that is used for inversion therapy or workout. Basically, it is a kind of table that can suspend you upside down so that your spine becomes stretched. These tables are designed to help you relieve any strain on your lower back or legs from an injury or prolonged workout session. It is particularly useful for people who have a history of back pain problems, especially those that have developed at a young age.
Benefits Of Using An Inversion Table
Relieve Back Pain
An inversion table is believed to help with alleviating back pain and improving the spine through stretching. Using an inversion table is said to be much better than a regular full-body massage. For one, you can hang yourself upside down on your own without any help from others at all. By turning upside down, you can stretch the muscles on your back and lessen some unnecessary pressure on your spinal cord and discs. You can also stretch your abdominal muscles using it, helping you maintain good posture.
Alleviate Pressure
An inversion table can help alleviate some of the discomfort and pain associated with any injury that developed in the muscles over time. If you are experiencing any pain in your back or neck while exercising, an inversion table can be a very effective exercise aid.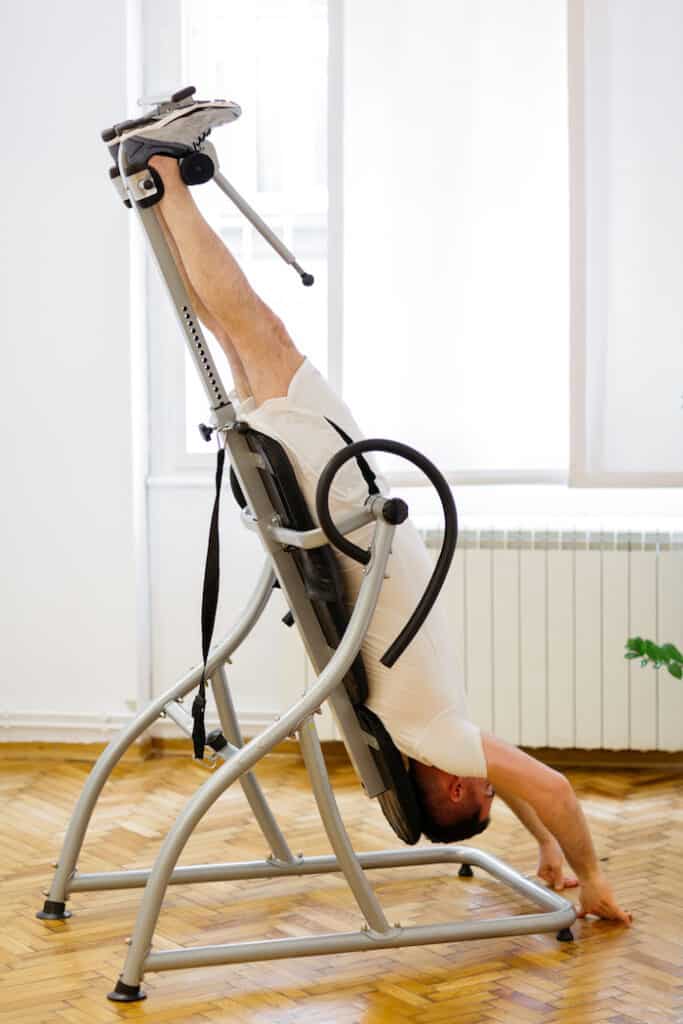 Lubricate Joints
Since you are upside down and hanging on the floor, your knees, back, hips, and lower legs are properly supported by the device; there is no pressure from bending them and overly exerting the muscles. The inversion table helps increase your flexibility, which means you are able to move around freely without damaging your joints or causing pain in your joints. This is because your body won't have to exert too much effort in order to move.
With the use of an inversion table, your body can also improve the circulation of blood, even in the lower part of the body. This device is ideal for your legs and ankles. Your body core becomes strengthened and toned with its help.
Lose Weight
With an inversion table, it is also possible to lose weight. With all the ease in working out and not straining your joints, you can exercise more, thereby dropping hundreds of calories that cause weight gain. Difficult movements can be made easier while using the table. Crunches and sit-ups can be performed on a regular basis because of the nature of the apparatus.
Aspects Of An Inversion Table
With the increased popularity of inversion tables, the market has developed different kinds of models, shapes, and designs. Some of them offer comfortable sitting positions, while others include handrails and hand grips. Many of these brands come with either a manual or electric motor that generally positions your table while your body is placed upon it. All of these aspects are geared toward giving you the most relief for reducing pressure on your back and your shoulders.
There are many types of inversion tables available in the market, which include the ones that help to increase the height of your spine. By creating an environment that encourages a balanced movement of the muscles of the spine, you can ascertain the results for better posture and overall health of the body.
Therefore, if you are looking forward to improving your posture and health, you can use or purchase an inversion table and get rid of your stress and strain from your back, hips, shoulders, and spine.
Conclusion
The benefits of an inversion table include getting relief from muscle tension, improving posture, and reprieving a range of aches and pains. There is a wide selection of different types of inversion tables in the market, but all of them are designed with one thing in mind— giving you your money's worth. This means that they are designed to give you the maximum level of comfort, quality of life, relaxation, and support.
While the benefits of using an inversion table are many, it is worth bearing in mind that you should only use an inversion table if you know how to do the inversion therapy, how it could be helpful for you, and if recommended by your physician.
If you have any other questions or concerns regarding the inversion table, seek the help of a professional.
Throughout the year, our writers feature fresh, in-depth, and relevant information for our audience of 40,000+ healthcare leaders and professionals. As a healthcare business publication, we cover and cherish our relationship with the entire health care industry including administrators, nurses, physicians, physical therapists, pharmacists, and more. We cover a broad spectrum from hospitals to medical offices to outpatient services to eye surgery centers to university settings. We focus on rehabilitation, nursing homes, home care, hospice as well as men's health, women's heath, and pediatrics.