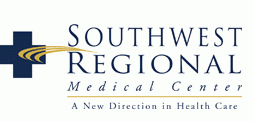 Southwest Regional Medical Center (SRMC) is in a unique position—unique because in today's world, you hear much more about businesses downsizing and services being reduced. And while they are not immune to the impact of the economic downturn, they find themselves growing, expanding and improving in many ways.
To what do they attribute this success? their employees' commitment to making SRMC a success. Learn more through their virtual tour.
Throughout the year, our writers feature fresh, in-depth, and relevant information for our audience of 40,000+ healthcare leaders and professionals. As a healthcare business publication, we cover and cherish our relationship with the entire health care industry including administrators, nurses, physicians, physical therapists, pharmacists, and more. We cover a broad spectrum from hospitals to medical offices to outpatient services to eye surgery centers to university settings. We focus on rehabilitation, nursing homes, home care, hospice as well as men's health, women's heath, and pediatrics.