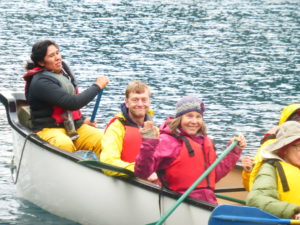 Survivor's Outdoor Experience (SOE) presents the first Pittsburgh-based "Healing Adventure" at the Chatham University Eden Hall campus June 28th – 30th, 2019. All participants attend free of charge.
Survivor's Outdoor Experience is a 501 © (3) non-profit educational and recreational organization run solely by volunteers. Founded by 15-year brain cancer survivor, Jack Ganster, this program was developed to provide cancer survivors of all ages an opportunity to learn about the benefits of living a healthy and active lifestyle. The program provides a curriculum of informative presentations balanced with recreational activities. The goal is to assist participants in gaining strength, hope, and a sense of the future.
Ganster is a Richland Township native who now lives in Port Angeles, WA. SOE has hosted seven successful Healing Adventure Retreats in Port Angles and Ganster wanted to bring the experience to his hometown.
The Healing Adventure will bring a small group of participants together in a remarkable setting to enjoy a weekend that will be one to remember. Participants will include individuals that have been diagnosed with cancer and a companion (if they choose to be accompanied).
The retreat features informative presentations, indoor and outdoor activities, good food and most of all, camaraderie, good times and memories. Presentations and activities include:
Who is a Survivor?
From Surviving to Thriving
Now What? Navigating Forward
Relating to Nature – from farm to table walk with Chatham University staff
Healthy cooking with Chatham University chefs
The Companion's Story
Self-Advocating
Kayaking at North Park
"I am pleased and honored to have such a great list of presenters for our first ever Pittsburgh program. We have hosted seven successful programs in Port Angeles, Washington and look forward to bringing this program to my hometown. We have planned an informative and relaxing weekend for survivors and their loved ones. We hope this will be a meaningful experience for everyone," Ganster, Executive Director of SOE, said.
For more information about SOE visit https://www.survivorsoutdoorexperience.org. For more information about the free program SOE retreat including registration, please contact Kathleen Ganster at 412-377-8364 or [email protected] or Jack Ganster at 360-377-1619 or [email protected] .
Throughout the year, our writers feature fresh, in-depth, and relevant information for our audience of 40,000+ healthcare leaders and professionals. As a healthcare business publication, we cover and cherish our relationship with the entire health care industry including administrators, nurses, physicians, physical therapists, pharmacists, and more. We cover a broad spectrum from hospitals to medical offices to outpatient services to eye surgery centers to university settings. We focus on rehabilitation, nursing homes, home care, hospice as well as men's health, women's heath, and pediatrics.