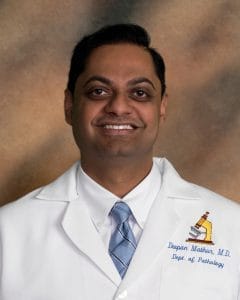 Sharon Regional Health System announced that Deepan Mathur, M.D. has been appointed as the Medical Director of the Pathology/Laboratory Department. Dr. Mathur is responsible for the overall operation and administration of pathology and clinical laboratory services for Sharon Regional Health System.
This includes the main hospital, in addition to three community-based laboratory services located in Hermitage, Mercer and in Hubbard, Ohio. In his role, Dr. Mathur ensures testing systems provide quality lab services, and testing methods used in the lab provide quality test results and has oversight for surgical tissue diagnosis and fine needle/cytology aspirations.
Additionally, he is actively involved in the design, implementation, and oversight of the quality management system for all laboratory services.
Dr. Mathur received his medical degree at the University Iberoamericana School of Medicine in Santo Domingo, Dominican Republic and completed his Anatomical and Clinical Pathology residency at the University of Missouri-Kansas City School of Medicine and University of Florida School of Medicine where he received multiple research awards and recognitions. He completed Pediatric Pathology and Molecular Genetics fellowships at the University of Miami Miller School of Medicine in Miami, FL. Additionally, Dr. Mathur has authored numerous medical research manuscripts and has been published in a variety of peer journals including; Lancet Oncology, The Journal of Family Practice, Pediatric Nephrology, and the Clinical Kidney Journal, to name a few. Before joining Sharon Regional Health System, Dr. Mathur served as a staff pathologist working on developing companion diagnostic immunohistochemistry for multiple oncology drugs at Roche/Ventana Medical Systems in Oro Valley, AZ.
About Sharon Regional Health System
Sharon Regional Health System is your community healthcare provider; a 220 licensed, acute care bed hospital with 19 satellite centers throughout the region. As a Joint Commission accredited hospital, Sharon Regional Health System proudly offers specialized services including the Heart and Vascular Institute, emergency heart attack/stroke treatment, cancer care, orthopedics/sports medicine, minimally invasive surgery, bariatric surgery, emergency care, a women's center, and a breast care center. For more information visit, www.sharonregionalhealth.org.
About Steward Health Care
Steward Health Care is a fully integrated national health care services organization committed to providing the highest quality of care in the communities where our patients live. Steward owns and operates 18 community hospitals across four states, serves over 800 communities, and has more than 23,000 employees. The Steward network includes more than 25 urgent care centers, 42 preferred skilled nursing facilities, substantial behavioral health offerings, and more than 3,700 beds under management.
The innovative, community-based Steward Health Care Network includes more than 4,500 physicians who care for approximately 2 million patients annually. Steward Medical Group, the company's employed physician group, provides more than 1 million patient encounters per year and manages Steward Home Care and Hospice with 300,000 and 35,000 patient encounters respectively. Steward's unique health care service delivery model leverages technology and care coordination to keep patients healthier and in the community. Steward is recognized as one of the nation's leading accountable care organizations. Steward hospitals have received the country's top awards for quality and safety.
The Steward Hospital Group is comprised of: Sebastian River Medical Center (Sebastian, FL), Wuesthoff Medical Center (Melbourne, FL), Wuesthoff Medical Center (Rockledge, FL), Carney Hospital (Dorchester, MA), Good Samaritan Medical Center (Brockton, MA), Holy Family Hospital (Haverhill, MA and Methuen, MA), Morton Hospital (Taunton, MA), Nashoba Valley Medical Center (Ayer, MA), New England Sinai Hospital (Stoughton, MA), Norwood Hospital (Norwood, MA), Saint Anne's Hospital (Fall River, MA), St. Elizabeth's Medical Center (Brighton, MA), Hillside Rehabilitation Hospital (Warren, OH), Northside Medical Center (Youngstown, OH), Trumbull Memorial Hospital (Warren, OH), Easton Hospital (Easton, PA) and Sharon Regional Health System (Sharon, PA).
Additional information is available at www.steward.org.
Throughout the year, our writers feature fresh, in-depth, and relevant information for our audience of 40,000+ healthcare leaders and professionals. As a healthcare business publication, we cover and cherish our relationship with the entire health care industry including administrators, nurses, physicians, physical therapists, pharmacists, and more. We cover a broad spectrum from hospitals to medical offices to outpatient services to eye surgery centers to university settings. We focus on rehabilitation, nursing homes, home care, hospice as well as men's health, women's heath, and pediatrics.