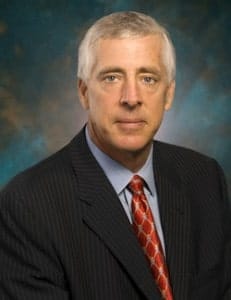 MSA Executive Search, the executive search practice of healthcare human resource consulting firm, Integrated Healthcare Strategies (IHStrategies), announced today that Michael A. Young will assume the role of President and Chief Executive Officer at PinnacleHealth System, Harrisburg, PA, in June.  Young will replace former Pinnacle CEO Roger Longenderfer, who retired last year.  MSA Executive Search conducted the search working with the Board Search Committee chaired by Robert Lyon.
"The board of directors of PinnacleHealth was committed to finding the right leader for the organization.  We found it in Mike Young – he is an exceptional healthcare executive," said Robert L Lyon, Chairman of the Board for PinnacleHealth. "With his proven record of achievement, we look forward to building on our proud history of high quality, cost-effective healthcare in the region."
Young will be responsible to the board of directors for the executive management of the health system. Young will have overarching responsibility for assessing, developing, and integrating efforts related to enhancing patient-focused care, while continuing the system's legacy as the leading, competitive healthcare provider.
PinnacleHealth System is central Pennsylvania's leading healthcare provider, with over 4,000 full-time equivalent employees, over 800 physicians on its combined medical staffs, and 591 licensed beds in two hospital complexes.
Young has over 25 years of experience in leadership positions with health systems throughout the country. Young currently serves as president and CEO of Grady Health System and Grady Memorial Hospital, a 953-bed academic hospital in Atlanta, Georgia.Young led the organization's turnaround as part of a major transformation of Grady Memorial Hospital, a massive medical facility that largely serves the poor of metro Atlanta. Young is credited with increasing patient revenues, increasing the amount spent on health care for the poor, improving the bottom line by $75 million through revenue growth and expense cuts, and increasing patient satisfaction surveys.
Young served as President and CEO of Lancaster General Hospital and Health System from 1986 to 2004. Under his leadership, the system grew to three hospitals and demonstrated a commitment to various mission services in the community.
Young received his undergraduate degree and masters in health science from the University of Pittsburgh. He is also a graduate of Harvard Business School's advanced management program. Young is a fellow of the American College of Healthcare Executives.
"PinnacleHealth was seeking a leader with a passion and commitment to patient safety and quality who could help them build on their history of high quality, cost-effective healthcare," said Jane Groves, Executive Vice President of executive search for Integrated Healthcare Strategies, the firm who conducted the nationwide search for PinnacleHealth. "Michael's proven record of accomplishments, as well as his hands-on approach and strategic vision, made him an ideal candidate for this role."
About PinnacleHealth
PinnacleHealth is a non-profit healthcare system serving central Pennsylvania. The healthcare network includes four campuses (Community, Cumberland, Harrisburg and Polyclinic), FamilyCare physician practices, home health and hospice services, outpatient surgery and imaging centers, inpatient and outpatient care and an array of other healthcare services. For more information visit their website at www.pinnaclehealth.org.
About Integrated Healthcare Strategies
Integrated Healthcare Strategies provides not-for-profit healthcare organizations with direct access to a comprehensive array of healthcare-specific services, delivered by professionals from the industry who understand the rigors of running a healthcare organization – from the lunchroom to the Board Room.  Its client list is a "who's who" of healthcare organizations including over 1200 major healthcare providers, 1,800 hospitals, and 700 independent and affiliated medical groups.  Integrated Healthcare Strategies specializes in the areas of physician strategy and compensation, employee compensation, executive compensation, human capital solutions, labor relations, leadership transition planning, executive search, employee surveys, performance management and board governance solutions. For additional information, contact Julie McCauley at 800-327-9335 or at [email protected].  Visit Integrated Healthcare Strategies online at www.IHStrategies.com.
Throughout the year, our writers feature fresh, in-depth, and relevant information for our audience of 40,000+ healthcare leaders and professionals. As a healthcare business publication, we cover and cherish our relationship with the entire health care industry including administrators, nurses, physicians, physical therapists, pharmacists, and more. We cover a broad spectrum from hospitals to medical offices to outpatient services to eye surgery centers to university settings. We focus on rehabilitation, nursing homes, home care, hospice as well as men's health, women's heath, and pediatrics.