Penn State Fayette, the Eberly Campus, will offer an RN-to-BS in Nursing Completion program at the Washington County Center at Southpointe beginning Thursday evening, August 29, 2013. Classes will be held in the Bailey Center Facility, 125 Technology Drive, Canonsburg, PA. This program is targeted to the working Registered Nurse (RN).
Classes will be delivered one evening per week in an accelerated format. This format allows the RN to complete two courses or 6 credits per semester. The program also awards the RN 33 credits for educational experience and can be completed in as little as five semesters, based on credits already earned. According to Melissa Miner, Campus Coordinate for Nursing at Penn State Fayette, "This is a great opportunity for the RN to obtain a BS in Nursing from Penn State University close to home without driving to a distant campus."
The program is being coordinated by Penn State Fayette's Office of Outreach and Continuing Education in partnership with Penn State's Beaver Campus. Joe Segilia, Director of Fayette's Continuing Education Office stated that he is excited about the opportunity to bring this outstanding Nursing Program to local residents.

"Penn State University has a well-known reputation for responding to the educational needs of Pennsylvanians," Segilia said. "This specific program brings the resources of Penn State Fayette, the Eberly Campus, to nurses in Southwestern Pennsylvania. We have been providing on-site nursing programs at local hospitals for over ten years."
This program is Penn State Fayette's first effort to offer credit courses in Southpointe. Segilia said that this initiative is one way they can help nurses receive professional development opportunities right in their local communities.
"Nursing students who enroll in these Penn State classes bring expertise and skills from various healthcare environments," he added. "Many students indicate that this focused classroom interaction with other nursing colleagues and the leadership provided by Penn State Fayette's Nursing faculty are valuable components of a successful learning process."
Individuals interested in learning more about this new program initiative can call Penn State Fayette's Nursing Department at 724 430 4220.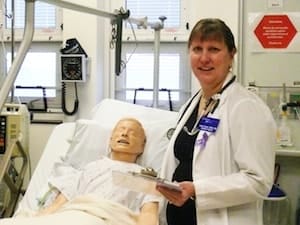 Program Spotlight: Janet Knott, Penn State Nursing Faculty Member
Janet Knott, D.N.P., R.N., C.N.E., began her nursing career at a small community hospital in an adult Intensive Care Unit. While practicing at this hospital she obtained a Baccalaureate of Science in Nursing Degree from the University of Pittsburgh and then a Master's of Science in Nursing Education Degree from Indiana University of Pennsylvania.
Knott has over 20 years of clinical experience in both adult and pediatric Intensive Care. Most recently, she obtained a Doctor of Nursing Practice from Carlow University. Presently, she is a Certified Nurse Educator at Penn State Fayette, the Eberly Campus in Uniontown, where she has been teaching nursing for the past fourteen years both in the Associate Degree and Registered Nurse to Baccalaureate in Science programs. In addition, she is currently the Simulation Laboratory Coordinator. Knott is truly passionate about nursing and the education of present and future nurses, which is exemplified in her teaching.
Throughout the year, our writers feature fresh, in-depth, and relevant information for our audience of 40,000+ healthcare leaders and professionals. As a healthcare business publication, we cover and cherish our relationship with the entire health care industry including administrators, nurses, physicians, physical therapists, pharmacists, and more. We cover a broad spectrum from hospitals to medical offices to outpatient services to eye surgery centers to university settings. We focus on rehabilitation, nursing homes, home care, hospice as well as men's health, women's heath, and pediatrics.