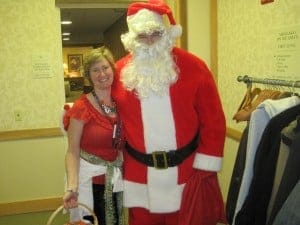 By Rafael J. Sciullo, MA, LCSW, MS
Some of our clearest and most cherished memories are those that surround the holidays. Whether it be family gatherings at Grandma's, or the look on the face of a loved one when you gave him or her the ideal present – some holiday images are forever etched into our minds. Many of us are blessed to hold those memories and recall them with great fondness.
The greatest memories, perhaps, are of when we seized the opportunity to make a difference in the lives of others. Those gifts are priceless.
As he was out shopping for his family's holiday gifts, Mike had a priceless idea. "It's time to do something that's bigger than ourselves," he thought. He's always been one to believe that the holiday season is about giving, spreading joy, and creating memories.  After all, as a family man Mike cherishes the opportunity to make this time of year special.
But now Mike was ready to spread that joy a little farther. Mike is a Family Hospice and Palliative Care community liaison who works out of our Hermitage office.  Considering that he meets patients and families on a regular basis, Mike gets to know them – and their stories. Just like all of our staff that encounters patients, Mike develops a relationship with people and is dedicated to improving their quality of life.
His idea was to give that priceless gift of making a difference.
Each year, he volunteers his time to play Santa Claus at senior living facilities in the Hermitage area, and share some holiday cheer with residents.
This holiday season, "Santa Mike" parked his sleigh at Presbyterian SeniorCare Shenango, Trinity Living in Grove City, and the Greenville Area Senior Service Center.
At Presbyterian SeniorCare Shenango's annual holiday party, Mike participated in Christmas carols with residents and families, and handed out holiday treats. In Greenville, he was the "guest of honor" at breakfast with Santa Claus.
Residents and families alike expressed their appreciation. The daughter of a resident came up to Mike and commented how happy she was that her mom was able to "give Santa her list in person."
Shawna Bostaph, Presbyterian SeniorCare Shenango's director of personal care, said that everyone from residents to visiting grandchildren enjoyed "Santa's" visit. "He lets the children crawl up onto his lap, and even the patients who know Mike don't realize it's him. He brings a lot of joy."
And it wasn't just Mike who answered the call to shine this holiday season.
Every day, our staffers share their talents with our patients and families. But here's another case of going above and beyond, with two members of our Family Hospice team who are musically inclined. The week before Christmas, our Chief Medical Officer, Dr. Susan Hunt, and physical therapist Bill Sheppard entertained residents of Baptist Homes in Mt. Lebanon. With Dr. Hunt on the cello and Sheppard on the piano, they treated residents on several floors to holiday, classical, and popular tunes. Later in the week, Bill Sheppard volunteered his time again to do the same thing at Oakleaf Personal Care Home in Baldwin.
These gifts of time and talent help personify our Family Hospice promise to provide CompassionateCare    to our patients and their loved ones. It is our hope that the memories created by these "not so random" acts of kindness last for years to come.
Rafael J. Sciullo, MA, LCSW, MS, is President and CEO of Family Hospice and Palliative Care and Past Chairperson of the National Hospice and Palliative Care Organization. He may be reached at [email protected] or (412) 572-8800. Family Hospice and Palliative Care serves nine counties in Western Pennsylvania. Its website is www.familyhospice.com.
Throughout the year, our writers feature fresh, in-depth, and relevant information for our audience of 40,000+ healthcare leaders and professionals. As a healthcare business publication, we cover and cherish our relationship with the entire health care industry including administrators, nurses, physicians, physical therapists, pharmacists, and more. We cover a broad spectrum from hospitals to medical offices to outpatient services to eye surgery centers to university settings. We focus on rehabilitation, nursing homes, home care, hospice as well as men's health, women's heath, and pediatrics.