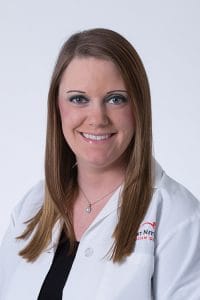 Mount Nittany Health is pleased to announce the addition of Melissa Wallace, CRNP, to Mount Nittany Physician Group Family Medicine at its Green Tech Drive location.
"Having worked as an RN with Mount Nittany Health since 2011, I have always valued the close-knit, 'family feel' of the entire health system," shares Wallace. "It's an organization for which I'm proud to work and serve the people of our region."
Wallace earned her bachelor's degree in nursing from South Dakota State University in Brookings, South Dakota, and her Master of Science in Nursing – Family Nurse Practitioner from Maryville University in St. Louis. Wallace was most recently employed as an RN clinical supervisor at Mount Nittany Medical Center, after having served as a staff RN for six years.
"As a healthcare provider, my focus is to treat the entire patient, not just their illness," says Wallace. "Watching people get better, seeing the difference that you and your care team have made in improving the health of others, that's what makes every day so rewarding."
Outside of the office, Wallace likes spending quality time with her husband, Alan, and family. She and Alan are animal lovers and enjoy fostering cats for a local animal rescue organization.