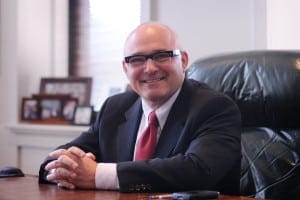 The Allegheny County Medical Society Foundation (ACMSF) will present the 2014 Benjamin Rush Individual Award to Michael G. Zamagias, board chairman and CEO of Pittsburgh-based TeleTracking Technologies, Inc., during its annual community awards and fundraising gala, Saturday, March 7, 2015 at Heinz Field – East Club Lounge.
Established in 1947, the Benjamin Rush Individual Award recognizes non-healthcare professionals who devote time, skills or resources to assisting others and contribute to the advancement of healthcare.
Mr. Zamagias, majority owner of TeleTracking, has guided the firm from a small startup two decades ago to the world-leading producer of healthcare operations management software solutions and services, which relieve hospital overcrowding, improve patient access and save money. TeleTracking solutions connect to 350,000 beds in over 850 client hospitals in the United States, Canada and the United Kingdom.
"Michael G. Zamagias is an inspirational member of the Pittsburgh community who continues to touch countless lives through his many business initiatives, and single-minded commitment to improve healthcare delivery across the world," says Daniel Pituch, DMD, MD, who nominated Mr. Zamagias for this award. "More importantly, Michael is an extraordinary human being who humbly and quietly gives of himself to those in need of hope and inspiration."
Mr. Zamagias continues to dedicate himself to transforming the healthcare industry by eliminating the waste that is crippling provider organizations nationwide and globally and strives to improve the lives and efficiency of all healthcare providers through the innovative technological developments.
Under his leadership, TeleTracking has integrated its solutions into an enterprise-wide operational platform, which automates virtually all of the tasks and services, which support the timely delivery of healthcare.
This platform, called Real-Time Capacity Management,™ powers live information to the entire enterprise via dashboards to provide  a "moving picture" of patient, staff, physician and asset location, bed capacity and critical workflow data so that executives, managers and placement specialists can manage operations in real time. The results are dramatically reduced overcrowding and wasted time, improved use of existing capacity, enhanced patient satisfaction and access to care, significant cost savings and greater revenue generation.
Mr. Zamagias and his wife Elizabeth reside in Sewickley. They have four children.
The Allegheny County Medical Society represents physician members from all specialties and is dedicated to providing leadership and advocacy for patients and physicians. The organization has been serving Allegheny County since 1865.
Throughout the year, our writers feature fresh, in-depth, and relevant information for our audience of 40,000+ healthcare leaders and professionals. As a healthcare business publication, we cover and cherish our relationship with the entire health care industry including administrators, nurses, physicians, physical therapists, pharmacists, and more. We cover a broad spectrum from hospitals to medical offices to outpatient services to eye surgery centers to university settings. We focus on rehabilitation, nursing homes, home care, hospice as well as men's health, women's heath, and pediatrics.