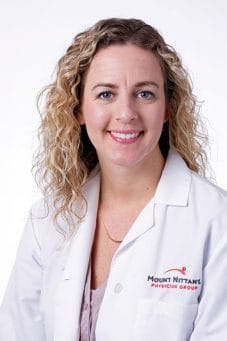 Mount Nittany Health is pleased to announce the addition of Jennifer Illig, PA-C, to Mount Nittany Physician Group Cardiology, where she will manage the new heart failure program.

"Getting to know the patients and making their health a priority is my number one goal," shares Illig.
Illig earned her bachelor's degree in health science and Master of Physician Assistant Science from Saint Francis University in Loretto, Pennsylvania. She is board certified by the National Commission on Certification of Physician Assistants.
"Knowing that what we do as healthcare providers truly helps people feel better and has the ability to make a positive difference in their lives is what inspires me," says Illig.

Outside of the office, Illig enjoys spending time with her family, photography and getting outdoors as much as possible.
The new heart failure program at Mount Nittany Physician Group Cardiology is dedicated to helping patients who are living with heart failure. The program provides those patients with education and support to manage concerns like symptoms, medication and overall health and wellness.
To learn more about cardiology services offered at Mount Nittany Health, including the new cardiovascular pavilion scheduled to open this fall at Mount Nittany Medical Center, visit mountnittany.org.
Throughout the year, our writers feature fresh, in-depth, and relevant information for our audience of 40,000+ healthcare leaders and professionals. As a healthcare business publication, we cover and cherish our relationship with the entire health care industry including administrators, nurses, physicians, physical therapists, pharmacists, and more. We cover a broad spectrum from hospitals to medical offices to outpatient services to eye surgery centers to university settings. We focus on rehabilitation, nursing homes, home care, hospice as well as men's health, women's heath, and pediatrics.