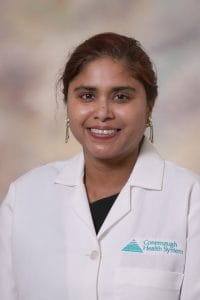 Latasha Naidu, MD, board certified in Internal Medicine and Infectious Disease, has joined Conemaugh Physician Group and is now seeing inpatients at Conemaugh Memorial Medical Center.
Dr. Naidu is a graduate of the College of Wooster in Wooster, Ohio, and received a Master of Science from Wright State University in Dayton, Ohio. She then earned her Doctor of Medicine from Saba University School of Medicine in Saba, Netherlands-Antilles. Dr. Naidu completed an internship in Internal Medicine at the University of Virginia, Roanoke-Salem Program and a residency in Internal Medicine at Northeastern Ohio University College of Medicine in Youngstown, Ohio, followed by a fellowship in Infectious Disease at the University of Rochester, Strong Memorial Hospital in Rochester, New York.
Dr. Naidu feels internal medicine has always been her calling and her love of the study of cell biology and microbiology led her to an interest in pursuing a career in infectious disease medicine. "This field incorporates all the things I love about medicine and science," says Dr. Naidu.
In her role at Conemaugh Memorial, Dr. Naidu will care for critically ill patients with infections and those with infectious diseases affecting various organ systems. "I am thrilled to be joining the staff of Conemaugh Memorial Medical Center and to have the opportunity to collaborate with a talented group of providers," says Dr. Naidu. "I am equally excited to be joining the Johnstown community and to bring additional Infectious Disease services to the area."
Dr. Naidu is from Northeast Ohio and adds, "I am glad to be close to my family." Dr. Naidu and her husband are parents to an eleven year-old son and reside in Richland Township.