The Fresh Harvest Restaurant at Laurel View Village in Davidsville, PA, celebrated a private grand opening and ribbon cutting celebration on Thursday, April 27th beginning at 5 p.m. boasting its new contemporary look, a full menu featuring Cura Hospitality's freshly-made entrees and a chef's demonstration table where guests enjoy live cooking demonstrations!  Fresh Harvest opened to the public Friday, April 28th.
According to Laurel View Village CEO Michelle Rassler, "Fresh Harvest delivers a unique, five-star dining experience in senior living – as well to the Davidsville community!  We are taking the top trends from the restaurant and hospitality industries and adapting to the guests we serve. Creative, fresh foods and innovative concepts such as The Chef's Table culinary demonstration area will position us for successful and memorable dining experiences."
The grand opening also marked Fresh Harvest's first catered special event to the Greater Somerset and Cambria County Chamber of Commerce where business leaders, local dignitaries, and government officials enjoyed select menu options designed and freshly prepared by Cura Hospitality Executive Chef Jaime Jones. 
Attendees enjoyed a Southwest Chicken Salad, Fresh Harvest Pasta Sauté, Penne Shrimp & Broccoli Sauté, Brown Sugar Glazed Salmon, and house-made desserts including Brownie Cheesecake Bites, Eclair, and Triple Berry Layer Torte.
A 2002 Indiana University of Pennsylvania Culinary Arts graduate, Cura Hospitality Chef Jaime brings a farm-to-table dining experience to the residents and guests at Laurel View Village and Fresh Harvest, preparing menu items using seasonal ingredients harvested from Western PA farms and producers.  Chef Jaime studied abroad at the Italian Institute of Culinary for Foreigners in Costigliole d'Asti, Italy.  Chef Jaime performed an externship and later served the historical Grove Park Inn Resort & Spa in Asheville, NC.  She also spent four years at Nemacolin Resort & Spa, a five-star resort, where she learned and studied under acclaimed chefs.
"I'm very excited to offer my culinary talents to Fresh Harvest, especially during the culinary demonstrations at The Chef's Table within the restaurant.  Residents and guests will be entertained as they learn how I prepare menu options, receive an education on seasonal foods, and cuisine trending in the food industry," says Chef Jaime. 
Cura Hospitality Sous Chef Zeno Zimmer brings a unique 15-year combination of culinary and healthcare experience to the residents of Laurel View Village!  A US Navy Veteran and licensed nurse, Chef Zeno served as the executive chef for the Green Gables Restaurant in Jennerstown, PA.  Chef Zeno's love for culinary stemmed from working with his parents and siblings in family restaurants where he worked in the kitchen before moving to the West Coast where he was the executive chef of the Galisteo Inn. Chef Zeno gained additional experience at Philadelphia's world famous French restaurant Le Bec Fin, and the Ritz Carlton Hotel.
Fresh Harvest Restaurant is open daily to the public from 11 a.m. to 8 p.m. for lunch and dinner; Sunday, 9 a.m. to 3 p.m. (see attached menu). Enjoy freshly made daily specials or order from our in-house bakery.  Chef's Table is open Tuesday, Friday and Saturday during dinner.
Cura is a highly responsive and innovative dining services and hospitality provider dedicated to a mission of Enhancing Life Around Great Food. Cura serves over 50 senior living communities and hospitals in the mid-Atlantic region. Cura's culinary, guest service and clinical professionals provide hospitality and clinical care to more than 20,000 residents, patients and guests each day. For more information, visit www.curahospitality.com.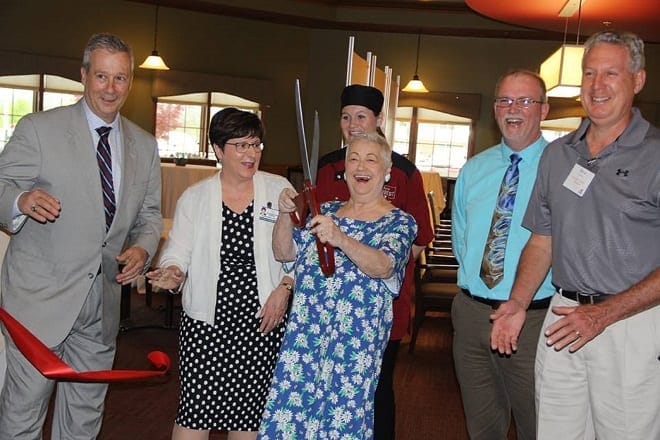 Throughout the year, our writers feature fresh, in-depth, and relevant information for our audience of 40,000+ healthcare leaders and professionals. As a healthcare business publication, we cover and cherish our relationship with the entire health care industry including administrators, nurses, physicians, physical therapists, pharmacists, and more. We cover a broad spectrum from hospitals to medical offices to outpatient services to eye surgery centers to university settings. We focus on rehabilitation, nursing homes, home care, hospice as well as men's health, women's heath, and pediatrics.