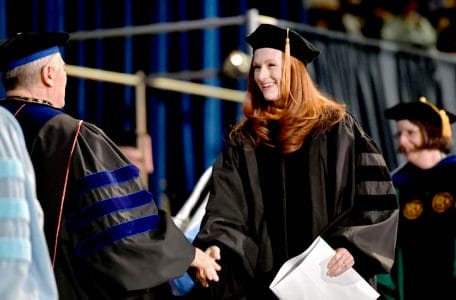 The first Penn State students to complete their doctoral degrees online graduated during the University's spring 2016 commencement ceremonies May 6-8.
The students, Jennifer Barton and Jackie Gordon, each graduated with a doctor of nursing practice (DNP) degree that is offered through Penn State World Campus and the College of Nursing. The students began their studies in 2014, when the program opened.
Their degrees were conferred Sunday (May 8) during the commencement ceremony for The Graduate School.
Both women worked full-time while enrolled in the program. Barton is a women's health nurse practitioner who teaches nursing undergraduates at the Penn State Hershey Medical Center. Gordon is a clinical nurse specialist at Penn State Hershey's Heart and Vascular Institute.
"Obtaining a DNP degree opens doors for multiple opportunities in the nursing profession," said Gordon, who pursued the advanced degree to enhance her evidence-based practice skills and broaden her understanding of leadership in today's health care environment.
The DNP program requires students to complete a project that focuses on the use of evidence to implement and evaluate a change in nursing practice.
Barton researched bullying and incivility in the profession. She learned that about a quarter of new nursing graduates will be bullied, and almost a third of them will leave the profession altogether.
"The more research I did, the more I saw that it's bad for our health care system because of the increased cost to replace people when they leave," said Barton, who developed and tested responses that nurses can use when they face similar situations.
Gordon developed, implemented and evaluated improved insulin protocols for cardiac surgery patients based on evidence she collected. As part of the process, she sought feedback and approval from various stakeholders at the medical center, such as endocrinologists and hospital leadership. She presented her project at the Eastern Nurses Research Conference in Pittsburgh in April.
In March, Gordon attended the American Association of Colleges of Nursing's Student Policy Summit in Washington. She was able to go to Capitol Hill and talk with U.S. Rep. Glenn Thompson (R-Pa.) about a bill that would enable advanced-practice registered nurses in the Department of Veterans Affairs to practice to the full scope of their education and licensure.
"A huge part of the DNP process is to gain a global view of health care, which is largely based on legislation," Gordon said.
Barton presented her research on incivility at the Nursing Research and Quality Conference in Chapel Hill, North Carolina, in March. She serves on a panel with the Pennsylvania State Nurses Association that's looking at the issue of incivility in the workplace.
"The DNP degree is essential to address the changing demands of our nation's complex healthcare environment," said Lori Lauver, assistant professor of nursing and the coordinator of the DNP program. "Doctor of nursing practice graduates are practice experts who are prepared at the highest level of nursing and have the skills necessary to lead system change and translate scientific evidence into practice to assure quality patient outcomes."
For more information about the doctor of nursing practice program or other online programs at Penn State, visit the Penn State World Campus website.
Throughout the year, our writers feature fresh, in-depth, and relevant information for our audience of 40,000+ healthcare leaders and professionals. As a healthcare business publication, we cover and cherish our relationship with the entire health care industry including administrators, nurses, physicians, physical therapists, pharmacists, and more. We cover a broad spectrum from hospitals to medical offices to outpatient services to eye surgery centers to university settings. We focus on rehabilitation, nursing homes, home care, hospice as well as men's health, women's heath, and pediatrics.