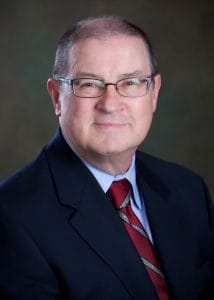 The Allegheny County Medical Society Foundation (ACMSF) will present the 2016 Executive Leadership Award to John G. Krah, executive director, ACMS, during its Celebration of Excellence Awards Gala, Saturday, March 4th at Heinz Field.
Krah is the first recipient of the Executive Leadership Award, presented to an individual who has demonstrated exemplary leadership and advocacy for physicians over a sustained period of time, displaying administrative guidance and support to physicians to improve their ability to improve the lives and health of the people of our community. Krah has served as the society's executive director since January of 1989 and has dedicated his career to advocacy for physicians and patients.
"It has been a honor and privilege to work with Jack for the past ten years," says Lawrence John, MD, 2016 ACMS President.  "He is the most dedicated administrator I have ever been associated with in my career."
During his tenure Mr. Krah has worked extensively to help physicians achieve meaningful tort reforms in Pennsylvania and led local legislative efforts to stop Medicare fee schedule cuts scheduled under the Medicare SGR formula.
He was instrumental in helping the society establish a medical student scholarship fund for students from Allegheny County and an endowed health care studies scholarship at the Community College of Allegheny County.
The society has supported many public health initiatives addressing domestic violence, childhood obesity, smoking cessation, alcohol and drug abuse. The society has also participated in public service radio and television campaigns including Straight Talk About Healthcare on KQV; The Power of Prevention campaign; Health Capsules on KDKA-TV; Healthy 4 Life with WTAE-TV; the Dear Doctor column in the Pittsburgh Post-Gazette which addressed reader questions on medical issues by ACMS physician members and more.
The society built a fully accessible playground at YMCA Camp Kon-O-Kwee and Spencer in Fombell, PA. The society also conducted Medical Exchange Forums, which paired community and corporate leaders with practicing physicians for a two-day shadowing and educational experience and formed Allegheny MedCare, a group purchasing organization for physicians' medical and surgical supplies and helped the society start and operate a central Credentials Verification Service.
"Jack fully understands what makes doctors tick and how best to serve them," says Dr. John. "His skills and insight are amazing and impress me on a daily basis. Physicians have been served comprehensively under his leadership and ACMS has been blessed to have Jack at the helm all of these years."
Krah currently serves on the Board of Directors of the Pittsburgh Regional Healthcare Initiative, and has previously served on the Boards of the American Association of Healthcare Executives, the Better Business Bureau of Western PA, the North Side Civic Development Council, the Consumer Credit Counseling Service of Western PA, and the Pittsburgh Society of Association Executives (PSAE). He has served as president of the PSAE and received the Joe Gilbert Outstanding Association Executive Award from the organization.
Krah and his wife, Nancy, reside in Upper St. Clair and have two adult daughters.
The ACMS represents physicians from all specialties and is dedicated to providing leadership and advocacy for patients and physicians. The organization has been serving Allegheny County since 1865. 
Throughout the year, our writers feature fresh, in-depth, and relevant information for our audience of 40,000+ healthcare leaders and professionals. As a healthcare business publication, we cover and cherish our relationship with the entire health care industry including administrators, nurses, physicians, physical therapists, pharmacists, and more. We cover a broad spectrum from hospitals to medical offices to outpatient services to eye surgery centers to university settings. We focus on rehabilitation, nursing homes, home care, hospice as well as men's health, women's heath, and pediatrics.