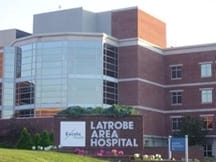 We recently became aware of Envinity, a leader in commercial renewable energy, construction management, and energy consulting, located in State College. The organization helps commercial and municipal clients throughout Pennsylvania work in buildings that are less costly to operate and healthier for their occupants.
Envinity is currently developing Energy Management Plans for three hospitals in the Excela Health System. They will perform ASHRAE Level investment grade energy audits for Westmoreland Hospital (Greensburg, PA), Latrobe Hospital (Latrobe, PA), and Frick Hospital (Mt. Pleasant).  Envinity assisted Excela Health in obtaining grant funding through the West Penn Power Sustainable Energy Fund to advance the scope of work from an ASHRAE Level 1 walk-through assessment to a more engineering-intensive investment grade audit.
The project is planned for completion over the course of the next 6 months.  Envinity will provide Excela Health with a self-financing energy management plan that will assist facility management in annual project planning and budgeting for years into the future.