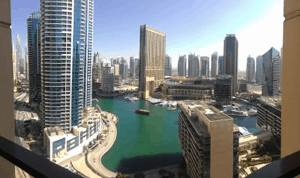 Dubai is located on the Arabian Peninsula on the Persian Gulf and is the most populous emirate and important business hub in the world. Besides, tourists from all over the world love to visit this luxurious place when it comes to traveling. However, a successful businessman never neglects to migrate to Dubai since it is a center of the business world.
Dubai – Emirate of the UAE
Below are some general pieces of information about Dubai in comparison with the total UAE specs:
Dubai area: 3,885 km²
UAE area: 83,600 km²
Dubai population: 3,137,000 (Oct. 8, 2018)
UAE population: 9,267,000 (2016)
UAE population density: 111 U / km²
State structure: Federal hereditary monarchy
Government system: constitutional monarchy
National language: Arabic , English
Religions:
Islam is the state religion (76% of the population),
but Hindus, Sikhs and Christians (9%) also live in the UAE
Currency: Dirham (AED)
Exchange rates:
1 USD = 3,673 AED
1 EUR = 4.12 AED
1 AED = 0.24 EUR
(course from 23.06.2020)
Telephone area code: (+971) 4
Time zone: UTC +4 hours
Last update: 08/01/2020
Immigration Stats
The population in Dubai grow rapidly due to labor immigrants within the past 45 years; the foreigner share is almost 90%. Almost 60% of the entire population comes from South Asia. Due to the fact that most immigrant workers are men. However, the UAE has an unbalanced gender ratio – for every 100 women, there are 218 men. Although the official language is Arabic, other spoken languages include Hindi, Urdu and Persian; English is the commercial language.
Only about one percent of the country's area is populated; the vast majority live in the cities. 76% of the total population (citizens and immigrants) are Muslims, 9% are Christians and the remaining 15% mainly Hindus and Buddhists.
Until the global economic crisis that started in autumn 2008, Dubai was a revolutionary and rapidly developing region. Since then, the construction boom has stalled and the financial situation messed up. As oil reserves have come to an end, Dubai is increasingly focusing on tourism.
Health insurance – safe, inexpensive, flexible
If you want international health insurance or any medical insurance in UAE while you are not physically there, you still can pursue a reliable one. You should opt for the cheapest option. After completing insurance documentation, you will receive your insurance confirmation and all other documents you need for consulates and authorities.
Travel and visa
Changed travel regulations during and after the Corona pandemic
The United Arab Emirates had restricted people entrance coming from abroad after the global pandemic issue. From 7th July 2020 onwards, the administration has allowed the entrance with conditions; all those arriving from abroad must prove a negative corona test or take a test at the airport.
General provisions for travel and residence (up to the corona pandemic)
VISA is issued immediately upon entry into Dubai or the UAE. The tourist visa is valid for 90 days – a valid passport is required. Work in Dubai is not allowed.
Work permit, immigration and permanent residence
The work visa fee is around AED 200 per year of issue and a private company must invite you. Foreign workers with permanent employment receive a residence and work permit.
The following documents are required for the application:
Residence application signed by the sponsor/company
Copy of the trading license
Photocopy of the passport from the sponsor
Passport of the applicant
Approved medical examination, valid for a maximum of 3 months
Emirates ID registration confirmation
Work card issued by the Ministry of Labor
A stay is mostly connected to a job; it is not possible to get a permanent visa. Expulsion is threatened if you lose your job! You should be back to work within a month. Also, it is important to know that there is no social security, no pension and health insurance in Dubai. The 5-day week now also applies to Dubai. Friday (in general) and Saturday are usually free.
Currently, wages in the construction and service sectors are around 400-500 dollars per month. Qualified experts are particularly in demand in the tourism and IT sector, but medical specialists (pharmacists, doctors and nurses) are also sought. You should be able to speak English; it goes better with Arabic. Although it is not essential to adapt to Islamic culture there, act according to Islamic teachings adds value and a stress-free lifestyle. For instance, a couple living together is only possible after marriage.
Cost of living
Dubai's best thing is that it is a duty-free country that thrives numerous benefits for a luxurious lifestyle. Since there is a very low VAT, you can have a very luxurious car at a very low price – Gasoline is very cheap. On the other hand, real estate is very expensive but has been falling since the crisis. Besides, as far as food is concerned, some are expensive, especially those that are imported, while others are inexpensive. This price difference in food allows you to lead your life according to your financial budget.
Throughout the year, our writers feature fresh, in-depth, and relevant information for our audience of 40,000+ healthcare leaders and professionals. As a healthcare business publication, we cover and cherish our relationship with the entire health care industry including administrators, nurses, physicians, physical therapists, pharmacists, and more. We cover a broad spectrum from hospitals to medical offices to outpatient services to eye surgery centers to university settings. We focus on rehabilitation, nursing homes, home care, hospice as well as men's health, women's heath, and pediatrics.