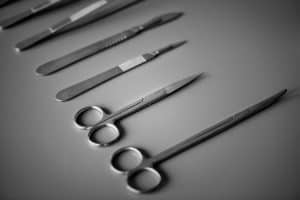 In 2017, demand for non-invasive and invasive cosmetic surgery went up by twenty-five percent, based on statistics from the American Academy of Facial Plastic and Reconstructive Surgery. "Selfie culture", and the general impact of image-centric social media platforms, is believed to be part of the reason why more people are making the decision to sign on for cosmetic surgery procedures. Today, we'd like to talk about three plastic surgery procedures which are quickly gaining traction with Pennsylvania residents from many different age groups.
Fraxel Laser Treatments Fight the Signs of Aging
Most of us want to turn back the hands of time. If you want to look younger, choosing a Fraxel laser treatment may be the answer. With this treatment, fractional lasers will be utilized to minimize or eliminate the signs of aging. Results from these treatments aren't too drastic. Fraxel is renowned for offering natural and realistic results. According to The New York Times, these treatments are popular because they don't require a lot of patient downtime. This treatment works wonders for smoothing out wrinkles and fine lines, toning down age spots, healing sun damage and erasing scarring from acne.
Ultherapy Tightens Up Neck Skin
As we get older, our skin loses elasticity. Neck skin is particularly thin and fragile. According to The Chicago Tribune, the neck is the part of our body that shows our age the most. Men and women who want firmer neck skin are opting for Ulthera treatments. These radiofrequency neck tightening treatments are cleared by the Food & Drug Administration. In addition to firming neck skin, this procedure may be used to decrease wrinkles and lines on the chest, or to tighten the brow or chin. Ultherapy utilizes trusted ultrasound energy technology to tighten and lift skin and it doesn't require surgery. There is no downtime after this procedure.
Breast Augmentations are the Top Choice
Some cosmetic procedures are invasive. One example is breast augmentations. According to CNN, 290,467 of these operations were performed during 2017. Breast augmentation is the most popular form of plastic surgery in the USA. During a breast augmentation, a plastic surgeon will put alternative composite, silicone or saline implants beneath breast tissue or below the chest muscles. Breast implants last from seven to twelve years. Women may expect three to seven days of downtime before they may perform strenuous tasks.
When searching for a plastic surgeon in Pennsylvania or nearby New York, look for the right credentials. A board-certified plastic cosmetic surgeon will have the right stuff, including hospital privileges. You may find a full list of board-certified plastic surgeons at the American Society of Plastic Surgeons website.
Throughout the year, our writers feature fresh, in-depth, and relevant information for our audience of 40,000+ healthcare leaders and professionals. As a healthcare business publication, we cover and cherish our relationship with the entire health care industry including administrators, nurses, physicians, physical therapists, pharmacists, and more. We cover a broad spectrum from hospitals to medical offices to outpatient services to eye surgery centers to university settings. We focus on rehabilitation, nursing homes, home care, hospice as well as men's health, women's heath, and pediatrics.