Congratulations to Christy Reposky and her team of Registered Dietitians including Liz Clinger, Katelyn Quick and Alicia Koloski (mentored by Chef Ryle David, Sherwood Oaks, Cranberry Township, PA), winners of the first Cura Hospitality Registered Dietitian/Chef Challenge!
Chopping, dicing and sautéing are not the typical day's agenda for Cura registered dietitians (RDs).  But, during a recent Cura clinical meeting, that's exactly what they did.
In an effort to inspire learning and appreciation for our roles, three teams of chefs and dietitians competed in the first RD/Chef Challenge held at Messiah Village in Mechanicsburg, PA.   According to Janet Schuch, MBA, RD, LDN, Cura director of nutrition, wellness and clinical compliance, "My goal for the Cura clinical team is for us to become more aware of food, cooking techniques, and industry trends.  We tend to be so clinically focused and don't take the time to stay in tune to what the culinary world can to do to enhance flavor in a healthy way."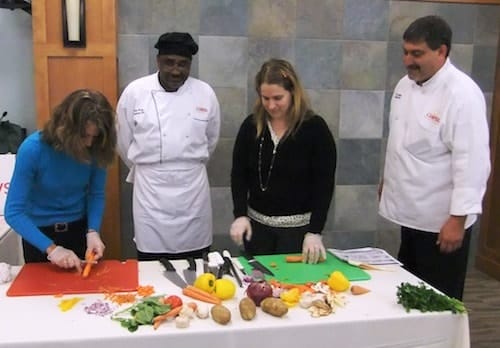 Chefs also learned a thing or two.  Dietitians were able to help chefs better understand dietary guidelines and how the use of spices can infuse flavor while reducing, for example, sodium intake.  Chef Ryle David said, "We soon realized that dietitians do care about flavor, texture and presentation.  They realize that no matter how healthy the food is, if the resident doesn't like it, they won't eat it.  Our goal is to work together to create healthy food that tastes great!"
The morning session of the meeting prepared RDs for the challenge.  The RDs learned tricks of the trade from Executive Chefs Rich Costanza (Washington Hospital, Washington, PA) and James Gray (Mercy Medical Center, Baltimore, MD).  RDs were trained in basic food preparation techniques including knife/cutting skills, braising, sautéing, and creating five mother sauces, which are the starting points for making various secondary sauces.
During the afternoon session, teams competed using the techniques they learned, preparing and presenting menu items from a market basket filled with fruits, vegetables, spices, proteins and variety of staple cooking ingredients.  Teams had a little over an hour to prepare a three-course meal (including an entrée and two accompaniments) with only an outside grill, induction burners and sauté pans.
Teams were awarded points based on taste, presentation and originality, but more points could be "earned" if RDs were "coached" by their chef leaders.  "So, the RDs had to have focused on the training during the first half of the day," said Ms. Schuch.
Competing along with Team Reposky were Team Lewis and Team Herman.  Team Lewis included RDs Erin Lewis, Chelsea McCullough, Lisa Corpora, and Danielle Brunozzi with Executive Chef Terry Geracia (Heritage Valley Health System, Beaver, PA).  Team Herman included RDs Joe Herman, Jamie Gilbert, Meredith Sorbel, and Joelle Patterson along with Executive Chef Eric Shocket (Pheobe Berks, Wernersville, PA).  An impressive panel of judges critiqued the day's activities.  They were Cura President Mitch Possinger, Andrea Barnes, MS, RD, CSG, LDN, Cura clinical nutrition manager for Phoebe Allentown and Richland Healthcare Centers, PA; John Kopyar, Cura general manager at the Lutheran Community at Telford in PA; and Chris Fitz, Cura director of retail and culinary services.
Team Reposky created a grilled peach and poached salmon salad with a mustard vinaigrette dressing and Vietnamese pot pie with chicken and shrimp.  "Dietitians are so "black and white".  Working with the chefs helped me to tune into the creative side of cooking! As we continue to grow, I hope that our team becomes inspired to bring the culinary and clinical world together so we can think "outside the box" for our patients, residents and guests," said Ms. Reposky, RD/LDN, Cura Regional Dietitian.
A member of Eat'n Park Hospitality Group, Cura Hospitality is a highly responsive and innovative dining services and hospitality provider dedicated to a mission of Enhancing Life Around Great Food.  Cura serves over 50 senior living communities and hospitals in the mid-Atlantic region.  Cura's culinary, guest service and clinical professionals provide hospitality and clinical care to more than 20,000 residents, patients and guests each day.  Visit us at www.curahospitality.com.