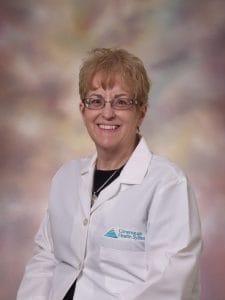 Dr. Kim Hanlon has been named Medical Director of Conemaugh Health System's Corporate Care and Occupational Medicine.
A Cambria County native, Dr. Hanlon is a graduate of Saint Francis University in Loretto and Penn State Hershey College of Medicine. She is board certified in emergency medicine and completed her emergency medicine residency training at Allegheny General Hospital in Pittsburgh.
After practicing emergency medicine for many years, Dr. Hanlon spent the past 20 years in occupational medicine. "I enjoy occupational medicine," says Dr. Hanlon. "It is great to interact with employers and employees and to help use the field of medicine to enable people to be safe and healthy on the job."
Dr. Hanlon comes to back to Johnstown after spending much of her career in the Pittsburgh region. Her most recent position was Medical Director of Occupational Medicine at Upper Allegheny Health System in Bradford, Pa. She is a Certified Medical Review Officer experienced in non-federal and federal drug and alcohol testing, and a Department of Transportation (DOT) medical examiner.
Conemaugh Corporate Care, an occupational health provider, delivers a full scope of work-related care for employers in a multi-county region. Services include state-of-the-art diagnostic testing, rehabilitation services, and access to specialists for comprehensive care. Staff are trained to spot potential problem areas and work with employees to modify the environment to prevent injuries. On-site testing including vision, hearing, pulmonary function, drug and alcohol, OSHA surveillance, pre-placement exams, fitness for duty and ergonomic evaluations.
Throughout the year, our writers feature fresh, in-depth, and relevant information for our audience of 40,000+ healthcare leaders and professionals. As a healthcare business publication, we cover and cherish our relationship with the entire health care industry including administrators, nurses, physicians, physical therapists, pharmacists, and more. We cover a broad spectrum from hospitals to medical offices to outpatient services to eye surgery centers to university settings. We focus on rehabilitation, nursing homes, home care, hospice as well as men's health, women's heath, and pediatrics.