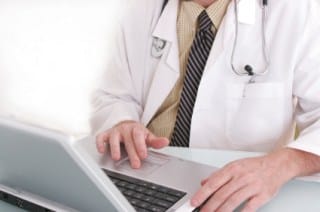 Dual degree program builds skills in nursing leadership and business administration
In today's increasingly complex healthcare environment, nurse leaders require a broad range of skills, including an informed perspective on business issues and management practices.
Beginning in January, California University of Pennsylvania will offer an MSN-MBA dual degree program that prepares graduates for management positions in nursing and other areas of practice, entrepreneurial ventures, or roles as chief nurse officers.
To meet the needs of busy healthcare professionals, the new MSN-MBA program will be offered 100% online, with no campus residency requirement. Students who have completed the required MBA foundation courses can complete the dual degree with just 54 credits, compared to the 81 credits that would be required if the Master of Science in Nursing and Master of Business Administration programs were taken separately.
Graduates of Cal U's MSN: Nursing Administration and Leadership program can add the MBA degree by completing just 33 additional credits. Students who graduated from other accredited MSN programs in nursing administration also may be eligible for an accelerated schedule.
All courses in California University's MSN-MBA curriculum are taught by expert faculty from the departments of Nursing and Business & Economics. Cal U Global Online, the university's online learning community, provides onboarding assistance and support services throughout the program.
Nursing degree options
In addition to the dual MSN-MBA degree, the Nursing Department at California University continues to offer its MSN: Nursing Administration and Leadership degree, ranked among the nation's best online graduate nursing programs by U.S. News and World Report. The program is fully accredited by the Commission on Collegiate Nursing Education (CCNE) and can be completed in just five semesters of part-time study.
California University also offers a 100% online RN-BSN program for registered nurses who wish to earn a bachelor's degree, and Cal U collaborates with Community College of Allegheny County to offer an Associate of Science Degree in Nursing (ADN) for those preparing to enter the field as registered nurses.
Apply now
Applications for the dual MSN-MBA degree at California University of Pennsylvania are being accepted now. For more information about this or other nursing programs, visit www.calu.edu, e-mail c[email protected] or call the Global Online office at 866-595-6348.
Now serving about 7,800 undergraduate and graduate students,
California University of Pennsylvania is a proud member of Pennsylvania's State System of Higher Education.
Throughout the year, our writers feature fresh, in-depth, and relevant information for our audience of 40,000+ healthcare leaders and professionals. As a healthcare business publication, we cover and cherish our relationship with the entire health care industry including administrators, nurses, physicians, physical therapists, pharmacists, and more. We cover a broad spectrum from hospitals to medical offices to outpatient services to eye surgery centers to university settings. We focus on rehabilitation, nursing homes, home care, hospice as well as men's health, women's heath, and pediatrics.