By David Pieton, CPA, ASA
As a valuation/merger and acquisition professional, I have noticed that our firm has experienced a significant increase in the volume of health care transactions over the past few years. I often receive inquiries regarding market data in the health care sector and would like to share some of this information.
Irving Levin Associates is a leading publisher of merger and acquisition data in the health care industry. For over 60 years, this company has been providing Wall Street investors and health care professionals with market intelligence on mergers and acquisitions ("M&A"). Their team of research analysts compiles information from press releases, trade journals, SEC filings and medical cost reports.
Following, I have presented the results of two of their 2012 reports, The Health Care Services Acquisition Report and The Hospital Acquisition Report, in which they identify recent trends. These reports focus on the deals that were announced in 2011 (through June 30, 2012 for hospitals), and for comparative purposes in the development of trend analyses this information is compared to historical data as far back as 2007. Upon review of their data, I noticed a few locally announced transactions were not included, which explains why the number of non-hospital provider transactions appears low. It appears that many smaller transactions are not noticed by their research team.
The reports also provide specifics on individual transactions such as target and acquirer names, summary business descriptions and, when available, deal terms, price paid and market multiples based on revenues, earnings before interest taxes, depreciation and amortization ("EBITDA") and number of beds in the case for hospitals. However, the purpose of this article is to highlight their reported trends and not discuss any of their transactional data contained in these reports.
The charts in each of the following sections depict the number of transactions reported by Irving Levine Associates.
Hospitals
The first half of 2012 indicated continued signs of improvement over the constriction of the credit markets and the economic downturn that began in Fall 2008. The increase in Hospital M&A activity was so dramatic that the combined activity for the years 2010, 2011, and for the first six months of 2012 account for a 25% increase in the number of deals made as compared to the combined previous three-year period (2007, 2008 & 2009). The passage of the Patient Protection and Affordable Care Act in March 2010 and its effects on reimbursement of hospital services certainly contributed to this increased pace of M&A activity.
In the 2007 through mid-2012 period, not-for-profit acquirers accounted for a greater than 60% command of the market, public company acquirers represented 12% while private company acquirers accounted for 28%. Among the targets, 64% were not-for-profits targets, 24% were private targets and 12% were public companies targets.
An average 294 acute-care beds changed hands per announced hospital transaction during the period 2007 through mid-2012. In terms of dollar volume, the reported trends are not representative of the whole as only 53% of prices were revealed in these transactions.

Physician Medical Groups
In 2011 the M&A activity for physician medical groups posted its highest activity for the five-year period 2007-2011 with 108 transactions as compared to the previous four-year (2007-2010) average of 51. Among the most frequently targeted practices in 2011 were cardiology, followed by internal medicine then multispecialty practices. Hospitals and integrated delivery systems accounted for over half of the buying cohort as they have been accumulating the building blocks to create Accountable Care Organizations.
Laboratory, MRI & Dialysis
This sector reported a 5-year low in terms of the number of deals. Imaging and radiology service providers claimed 38% of the M&A market followed by laboratory providers 31%, dialysis 17% and the remaining 14% attributable to various other businesses such as sleep centers.
Behavioral Health Care
Behavioral health care recognized an increase in deal flow in 2011 when compared to 2010 levels, but relatively the same as the four-year average. The focus for 2011 was on inpatient behavioral treatment facilities with 69% of the market involving psychiatric and other mental health programs delivered at a hospital or residential facility.
Home Healthcare
The home health care sector, which includes hospice and palliative care providers, recognized the lowest deal flow in 2011 when compared to the previous four-year period. Of the 29 deals announced in 2011, 72% were general home health care providers. The remaining 28% were hospice providers.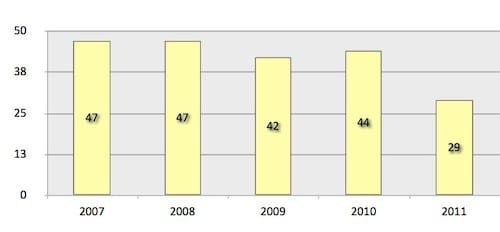 It is clear the business of health care today is under unprecedented levels of change. From healthcare reform to reimbursement reductions to new delivery and payment models, providers struggle with both the human and financial capital needed to prepare their organizations for the next era of healthcare delivery. The stabilization of economic conditions, coupled with the increased understanding of the regulatory environment, has lead health care companies to seek partnerships that expand their footprint and improve economies of scale. As a result, the past year has been very active for the health care M&A market and this trend is expected to continue.
For more information on how KFMR can help your business, please visit www.kfmr.com/healthcare or call 412.471.0200 – David J. Pieton, CPA, ASA.ASA.
Throughout the year, our writers feature fresh, in-depth, and relevant information for our audience of 40,000+ healthcare leaders and professionals. As a healthcare business publication, we cover and cherish our relationship with the entire health care industry including administrators, nurses, physicians, physical therapists, pharmacists, and more. We cover a broad spectrum from hospitals to medical offices to outpatient services to eye surgery centers to university settings. We focus on rehabilitation, nursing homes, home care, hospice as well as men's health, women's heath, and pediatrics.