The supply chain management (SCM)-health care track at Duquense University involves completing the SCM degree plus three additional courses focused focuses on continual improvement in the effectiveness and efficiency of the health care supply chain. Effective SCM in health care impacts both cost and quality of care, whether in a small clinic or large medical center.
The SCM-health care track is a partnership between the A.J. Palumbo School of Business Administration and the Mylan School of Pharmacy and Rangos School of Health Sciences. It is the only program in western Pennsylvania that is administered by an internationally accredited school of business. This specialized area of study introduces students to elements of the supply chain, including purchasing, operations and distribution, as they relate to the health care system. Also fundamental to the program is a thorough explanation of the American health care system, its terminology and the ever-changing information technology in the system.
See the ad below for further details or visit www.duq.edu/scm.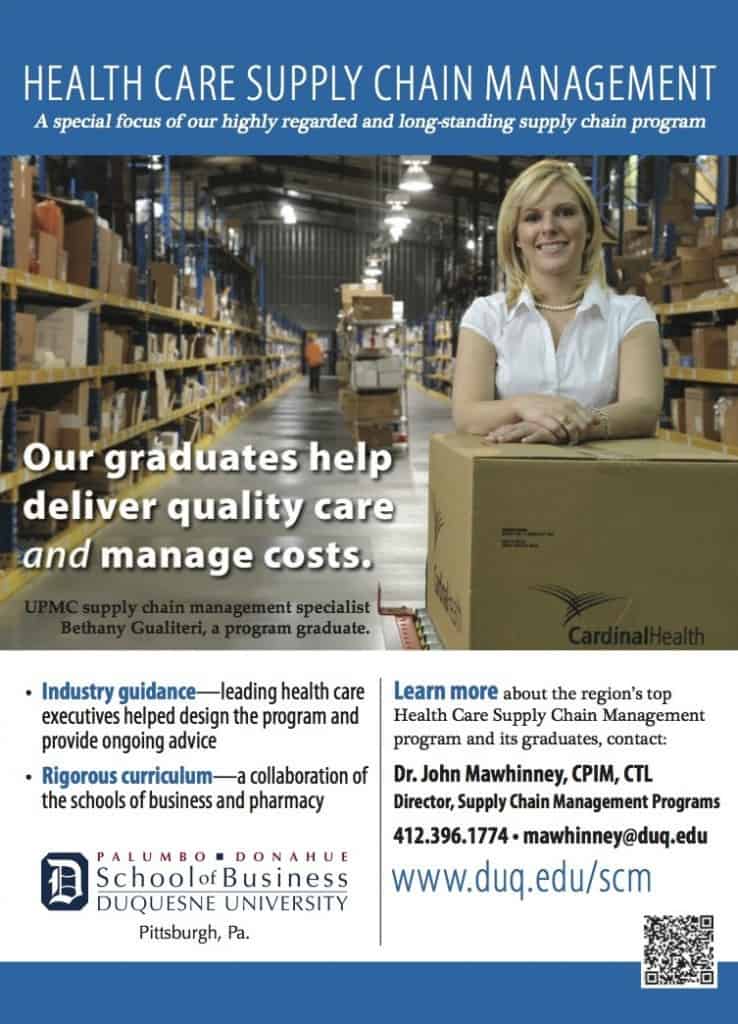 Throughout the year, our writers feature fresh, in-depth, and relevant information for our audience of 40,000+ healthcare leaders and professionals. As a healthcare business publication, we cover and cherish our relationship with the entire health care industry including administrators, nurses, physicians, physical therapists, pharmacists, and more. We cover a broad spectrum from hospitals to medical offices to outpatient services to eye surgery centers to university settings. We focus on rehabilitation, nursing homes, home care, hospice as well as men's health, women's heath, and pediatrics.