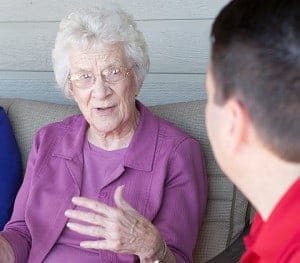 Senior care professionals are often caught in the middle when families can't agree. That's where the "70-40" Rule® programs and emotional support services can help. This program is offered to develop open discussions between families when it comes to providing care to parents and other various senior needs. Older adults and their families often look to professionals like you for practical resources and tips to help them bridge the communication gap.
You may have witnessed this in your senior care practice: the communication gap that occurred when Boomer children were teenagers can repeat as seniors struggle to find the right words to talk to their kids about sensitive subjects.
Independence, money, health and romance can leave tongue-tied even senior parents who are close to their Boomer children. How do seniors tell their adult children they want to stay in their own home versus going to a nursing home? What does a widower say to the kids when he's dating a family friend? How does a widow tell her children that she has cancer? How do older adults explain that they're becoming forgetful without sending their family into a panic?
The "40-70" Rule® was all about talking sooner rather than waiting until a crisis had occurred; the idea being that if a family caregiver is 40, or their parents are 70, it's time to start talking. The same is true of the "70-40" Rule®. If a senior is 70 and their kids are 40, it's time to start talking about some of the issues of concern to older adults as they age. And it's never too late for them to begin a meaningful conversation with the kids.
The "40-70" Rule® is based on original research conducted by Home Instead Senior Care, which discovered that nearly one-third of adults in the U.S. have a major communication obstacle with their parents that stems from continuation of the parent-child role. That same dynamic – and others – can come into play as well for older adults dealing with their Boomer children. If you're a professional working with seniors and their adult children, the 4070talk.com website can help you provide a valuable resource that may avert a crisis or help if one has already occurred.
Please download the full "70-40″ Rule Booklet (PDF 600K).
For tips on how families can get important conversations off the ground, visit our Conversations Starters page or Communications Tips for more information.

CAREGivers from Home Instead Senior Care can make a difference in the lives of older adults and their families by providing support with activities of daily living to help keep them independent for as long as possible.  For more information about Home Instead Senior Care visit www.homeinstead.com/greaterpittsburgh or call 1-866-996-1087
Throughout the year, our writers feature fresh, in-depth, and relevant information for our audience of 40,000+ healthcare leaders and professionals. As a healthcare business publication, we cover and cherish our relationship with the entire health care industry including administrators, nurses, physicians, physical therapists, pharmacists, and more. We cover a broad spectrum from hospitals to medical offices to outpatient services to eye surgery centers to university settings. We focus on rehabilitation, nursing homes, home care, hospice as well as men's health, women's heath, and pediatrics.