Communication with patients is vital in virtual settings. It ensures patients get a detailed explanation of their condition, contributing to patient satisfaction. Thus, you must understand each other during the interaction for successful virtual patient treatment sessions.
Virtual patient communication should be accurate and elaborate. It helps your patient get clarification and understand their treatment better. Below are six tips to improve virtual patient communications:
1. Invest In Compatible Virtual Technology
Your work tools are most valuable if they're efficient. It's best to prioritize technologies that offer several services to your patients. This includes access to their medical billings, records, and other important information such as reminders or doctor notes.
Leverage medical virtual assistants that are centered on patient experience. The technology should have advanced features to make communication easier and facilitate consultations. Some essential functions you should ensure are incorporated into the technology include:
Patient screening
Rescheduling appointments
Insurance information
Payment information
Patient records
Using an all-inclusive virtual assistant technology can improve patient engagement as they undergo treatment. Additionally, virtual assistant tech automates patient reminders such as follow-up consultations or medication refills.
2. Train Staff Members 
Navigating complicated sites can be daunting for your patients. Patients who don't know their way around your technology or first-time users might not have the best experience working with you.
Therefore, you must train your staff. It helps increase professionalism as you handle the patients. Your staff can guide them and train them on how to use the apps. For instance, your patients may need help scheduling appointments or finding consultation notes on the app. Your staff can orient them on such. This, in turn, improves their user experience, making communication easier.
3. Streamline Your Portal
Having a streamlined communication channel is critical. An all-in-one portal enhances the quality of your doctor-patient engagements. If the patients have to change from tab to tab during your virtual meetings, they might lose concentration. This makes the sessions ineffective.
To minimize the disturbances and improve their engagement, you should consolidate most, if not all, of your communications into a single channel. Make it seamless to search for information without creating any inconveniences. Alternatively, you can include chatbots on your sites to assist the patients while navigating through your sites. Such quick actions can be useful when patients need a quick response to specific reactions.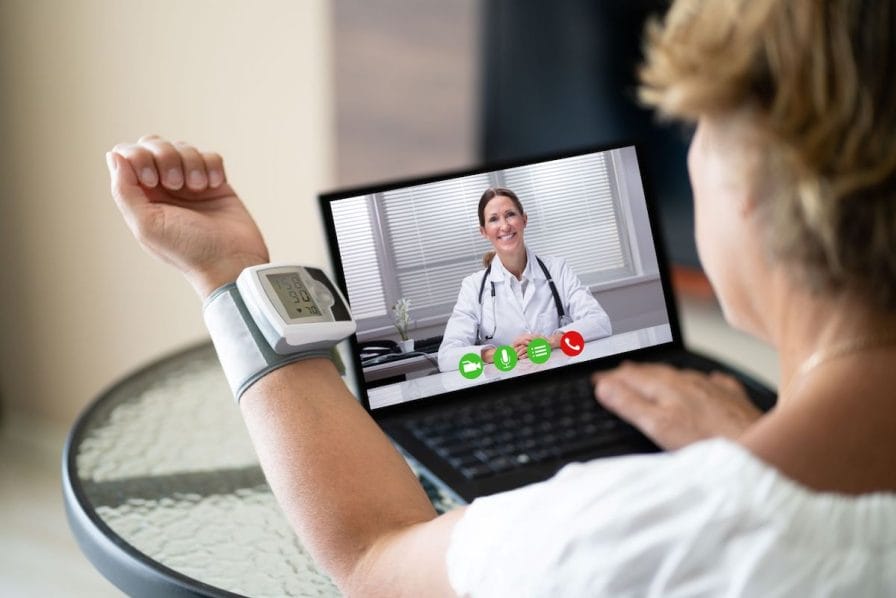 4. Use Simple Language
Language can hinder communication. As an expert in the medical field, you might use medical jargon that could make it hard for your patients to understand. It's also possible for patients to be anxious when receiving medical reports and analyses. Using heavy medical terminology may only intimidate your patients.
It's essential to simplify your language when communicating with your patient. It helps them understand the treatment plan better. If they ask questions, give them detailed answers to understand the treatment terms.
You should also be thorough in your prescriptions. This includes clear instructions on the right dosage or how frequently they should take the medication. You can also specify when they should take medicine and whether they need to eat before taking it. Keep your word choice simple to build a working relationship with the patient.
5. Mind Your Telehealth Etiquette
Virtual patient communication includes one-on-one sessions. Your patients can still see your body language and non-verbal cues as you communicate. Remember, maintaining good contact with your patients can help make them more comfortable during your consultation.
This can help you make informed diagnoses and hence better treatment approaches. As such, it's essential to maintain telehealth etiquette so your patients don't feel ignored or mishandled. Here are some tips on how to conduct excellent telehealth etiquette:
Maintain eye contact
Vocalize your actions
Don't drink or eat during patient sessions
Nod in approval
Listen attentively
Don't talk down to patients
Ask questions
Speak slowly
Ensuring you observe etiquette when addressing your patients is vital in such sessions. It expresses empathy which can forge a good connection with the patient. Therefore, ensure you control your non-verbal cues when communicating with your patients.
Inappropriate body language communication can lead to fear and frustration for your patients. If the patients are skeptical about your communication strategy, they may not be conducive to the treatment plan.
6. Plan For Technology Malfunctions
Technology downtime can significantly affect patient-doctor interactions. For instance, if your portal or website is constantly unresponsive, it may hinder communications. Thus, always test your portals before attending the sessions. Besides working on internet malfunctions, confirm that your equipment is working correctly. This includes webcams and earphones.
You can avoid such inconveniences by putting contingency measures in place. Say, switching to chat messages or recording a video if the call disconnects in the middle of a consultation. Alternatively, you can notify your patients via text message when your website is down.
Conclusion
Improving virtual communication is necessary as it impacts patients' treatment and procedures in telehealth sessions. Take note of the tips shared above to improve your communication strategy during virtual sessions.
Throughout the year, our writers feature fresh, in-depth, and relevant information for our audience of 40,000+ healthcare leaders and professionals. As a healthcare business publication, we cover and cherish our relationship with the entire health care industry including administrators, nurses, physicians, physical therapists, pharmacists, and more. We cover a broad spectrum from hospitals to medical offices to outpatient services to eye surgery centers to university settings. We focus on rehabilitation, nursing homes, home care, hospice as well as men's health, women's heath, and pediatrics.