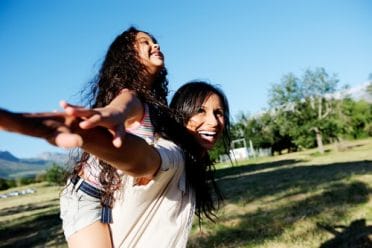 Mother's Day is fast approaching. Sons and daughters are looking for the perfect gift, sending Mother's Day ecards, and planning to allow Mom to sleep in and provide her with breakfast in bed or arrange for her to take some time away from the home—but what if this isn't what she wants? This Mother's Day, all mom may want is to spend a little quality time with her family.
Here are 10 ways to help celebrate Mom and allow her to have fun with the family too:
1. Start the Day with a Family Breakfast
Instead of breakfast in bed, Mom and kids can gather in the kitchen and make their favorite pancakes, muffins or eggs. It's a great way for Mom to connect with her kids.
2. Plan for Some Outdoor Time
If your mom enjoys the outdoors, take some time to have a picnic in the park or go biking together. A stroll around the neighborhood is also a great option for sons and daughters to spend quality time with Mom, especially if hectic schedules usually prevent long conversations.
3. Unplug
Technology is a common pulse through many people's lives, and a common distraction. Wouldn't it be a nice to spend a day without gazing at your phone every few minutes, so that your mom knows you are giving her your undivided attention? Instead, you can play a board game together or spend the afternoon baking a cake.
4. Get Nostalgic
Pull out old photo albums and look through various pictures together. Baby pictures, birthday memories, and other milestone moments will definitely remind her of those early mothering days that you shared together.
5. Pre-order a Sweet Treat
Do you want your mom to stay out of the kitchen, but also want to reward her with a sweet treat? Order a tasty box of Mrs. Fields cookies, chocolate-covered strawberries, or even a trio of sweet wine to be delivered to her doorstep.
6. Make it a Movie Night
Pre-select a few movies that your mom might enjoy and set up a movie night atmosphere in her living room. Mom can kick up her feet and enjoy laughs with her kids in the convenience of her home.
7. Have a Dance-off
Does Mom enjoy music and dancing, but it's been some time since she's had the opportunity to enjoy some of her tunes? Host a karaoke night or dance contest at home, so Mom and kids can showcase their skills. This fun night is guaranteed to get some laughs and lasting memories!
8. Plan to Garden
If your mom enjoys getting her hands in the dirt, buy some seeds, potting soil, and garden gloves, and head over to her house. Williams Sonoma provides plenty of gardening options for the seasoned planter with a green thumb. This is an enjoyable way to commune with nature, spend quality time with your mom, and also honor her wish to have her family around on Mother's Day.
9. Read Books Together
For the book-lover mom, choose a few titles ahead of time and plan for an afternoon indoors or on a picnic blanket reading together. She will definitely appreciate spending time with her family while also enjoying her hobby.
10. Make a Coffee or Tea Date
Most moms relish that cup of coffee or tea in the morning. Why not take your mom to her favorite pastry shop and pair a morning treat with her preferred drink? You can spend a leisurely morning talking and reminiscing over memories or planning for new moments in the future.
Throw out traditional celebrations about Mother's Day and plan for a day that Mom can spend time with her family. With several simple, but fun options, she will certainly feel celebrated and loved by all her family.
Throughout the year, our writers feature fresh, in-depth, and relevant information for our audience of 40,000+ healthcare leaders and professionals. As a healthcare business publication, we cover and cherish our relationship with the entire health care industry including administrators, nurses, physicians, physical therapists, pharmacists, and more. We cover a broad spectrum from hospitals to medical offices to outpatient services to eye surgery centers to university settings. We focus on rehabilitation, nursing homes, home care, hospice as well as men's health, women's heath, and pediatrics.