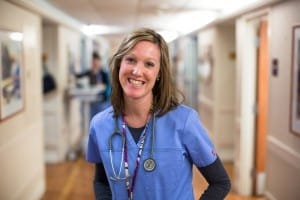 When you think of a nurse, what comes to mind? Most likely, it's an image of a competent, caring professional who is knowledgeable, educated, highly skilled and dedicated. That description perfectly fits Amy Carbonara, R.N., B.S.N., a St. Clair Hospital nurse who exemplifies the very best qualities of her profession. As a charge nurse/coordinator in St. Clair's Intensive Care Unit, she cares for critically ill patients and assists the nurse manager in making sure the busy ICU is functioning at its best at all times, offering the highest quality, most efficient care to patients and their families.
Carbonara knew from an early age that she was going to become a nurse. "I have an old childhood photograph with my younger sister, Jessy, who was just a baby; I have Jessy's arm in a makeshift sling and I am tending to my 'patient.' Even then I was practicing nursing!" Nursing has not disappointed the Finleyville native, who was the first person in her family to graduate from college. She started out at Indiana University of Pennsylvania, but the pull of home brought her back to Pittsburgh and eventually to Duquesne University School of Nursing, where she excelled and showed promise of an exceptional capacity for leadership.
"I was active in the nursing program at Duquesne," she recalls. "I helped create the Duquesne University Student Nurses Association, a local chapter of the National Student Nurses Association, and served as publicity director.  I attended state and national conventions representing Duquesne throughout my years there.  I was a member of the nursing fraternity, Alpha Tau Delta, and served as secretary."  Carbonara was nominated by an associate professor, her faculty advisor Suzanne Collins, for the Student Government Association Senior Award for being an inspiration to her fellow students.
After graduating from Duquesne in 2005, Carbonara came to St. Clair to launch her professional career, and has chosen to remain at St. Clair. "St. Clair won me over when I completed a nurse internship here. There's something special about this hospital; the warm friendliness of everyone here, the amazing teamwork, the excellent patient care and the community-oriented philosophy appeal to me. I was fortunate to get a position as a staff nurse on the same medical-surgical unit, 6E, where I did my internship. I loved helping my patients post-surgically with their recovery and rehabilitation, and the patient/family education that went along with it."
As much as she loved her work with post-operative patients, Carbonara knew that she wanted to advance in her career. She believes that one of nursing's most exciting features is the versatility and opportunity the profession offers, and she was ready for something new. "I transferred to the ICU in 2006, and I found my passion there. Critical care nursing is amazing; it's fast paced with never a dull moment, keeping you constantly challenged and thinking.  You can never know enough in the critical care world; there is always something new to learn. As a critical care nurse, you have many roles.  You may spend your day up to your elbows hanging medication drips and completing the puzzle of what is compatible.  You may hold the hand of a dying patient that has no family or friends and be the last person they remember or hold a conversation with before they take their last breath. You work so hard together as a team to stabilize patients, and the care is far more complex than most people realize. Professionally, I've grown up in the ICU."
Although the work is demanding on a mental, emotional and physical level, Carbonara says that the rewards are endless. One of her favorite moments occurred when a patient returned to the ICU to personally thank the staff for their lifesaving care. "None of us recognized the patient, even though we had cared for him every day for weeks. When he was in ICU, he was so sick and covered with lines and tubes. When he introduced himself to us, we couldn't believe it was the same person. On difficult days, the memory of that keeps me going."
Growing up on a family farm in Finleyville, Carbonara learned the value of hard work and says she has always had abundant energy – traits that serve her well today as she juggles a demanding job, family time and volunteer work.  She has volunteered at Baptist Homes and St. Thomas More Church, doing blood pressure screening and stroke awareness teaching, and is involved with a non-profit organization called Three Rivers Adaptive Sports (TRAS), a chapter of Disabled Sports USA.  "This organization provides quality year-round sports and recreation opportunities for people with disabilities. I became involved after my dad had surgery in 1994 and required extensive physical therapy.  During his rehab, a therapist told him about TRAS.  The following year, my dad, who loves snow skiing, inspired my family to become members of TRAS.  Both of my parents are deeply involved and even became certified adaptive ski instructors.  I've volunteered with TRAS for most of my life; we've enjoyed bike riding on the Montour Trail, snow skiing at Hidden Valley, kayaking and water skiing on the Mon River and much more. TRAS has taught me about positive thinking, gratitude and overcoming barriers of all types."
Working with TRAS, Carbonara says, has inspired a mindset in her that she applies throughout her life. "You push yourself and tell yourself there are no limits. I don't take anything for granted, and I always remind myself, 'I'm perfectly healthy so I should be doing everything I possibly can in my life.'" That includes taking on extra projects at work, plus training for triathlons, half marathons, biking and hiking events, and helping out at the farm for special events. She is married to "the love of my life," her husband Matt, and are expecting their first child in late summer.
Carbonara was honored by her co-workers as "Cameo of Caring Nurse" nominee in 2009.  The award honors excellence in nursing. Jana Wetzel, R.N., ICU Manager, is Carbonara's supervisor. "Amy is a well-rounded nurse: strong clinically, strong in emergencies, and best practices oriented. She's great with the staff as a manager and educator. There is a quiet confidence in her that earns her respect from patients, co-workers and physicians. Amy puts a lot of time into volunteer work but she isn't self-promoting about it. She also has good business sense, with an understanding of budgets and productivity that she learned from her family's business. She definitely has a future in management or another leadership role."
For now, Carbonara is content in her role in the ICU. "I love my work. It's intense and difficult, and the hours are long and sometimes exhausting. But one patient can make it all worthwhile. My patients have changed me, taught me and given me valuable life lessons. When people thank me for being a nurse, I always thank them for allowing me to do my job… it's just what we nurses do.  Everybody has a role in life, mine is being a nurse."
For more information, visit www.stclair.org.