Your razor might be of the highest quality. And it still doesn't negate the fact that shaving is detrimental to the skin. Shaving opens the door to dryness, roughness, acne, cuts, ingrown hairs, redness, etc. So at such times, a healer in the form of the best aftershave works wonders. But what exactly is the importance & benefits of aftershave?
In this post, I'm going to tell you everything about the magic potion called aftershave. That makes your post-shaving skin feel a lot better.
But before we get to the importance & benefits of aftershave, make way for something even more urgent. A need-to-know breakdown of the different kinds of aftershaves and their ingredients!
Aftershave Types and Ingredients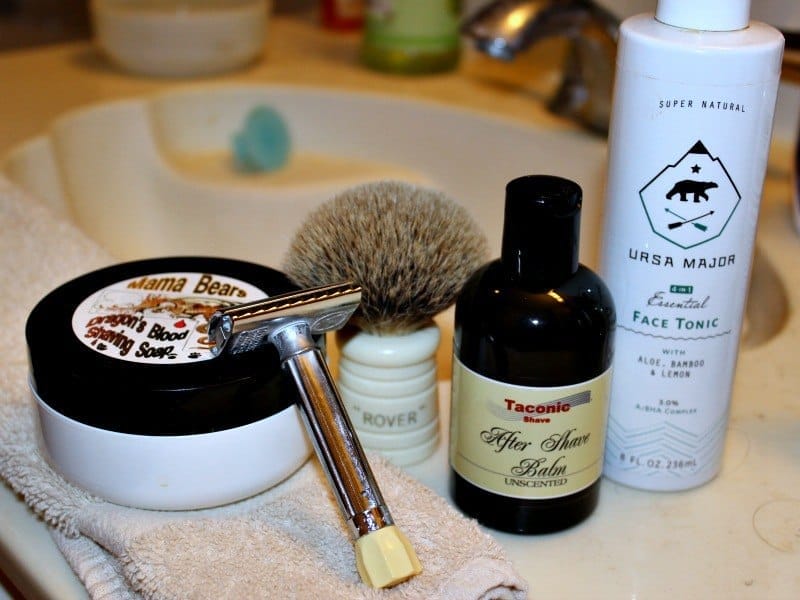 You can split aftershave into two groups; alcohol and witch hazel. And when choosing aftershave, it's necessary to understand how the latter is a safer and better option than the former.
For a Natural Aftershave, Pick Witch Hazel
And here are all the reasons why:
Witch hazel is an astringent for the pores
Many beauty products contain witch hazel. For both men and women!
What the natural component does is constricts your pores. Without drying out the skin, unlike alcohol.
Witch hazel has anti-inflammatory properties
When it comes to soothing irritable skin, witch hazel certainly works as a magical potion.
After all, it's a common ingredient present in products created to treat rashes and bug bites. Needless to say, your post-shaving skin demands the calm effect that witch hazel has to offer.
Witch hazel doesn't sting
You don't have to be a masochist you know! Why choose a product that stings when you can just as easily pick one that doesn't?
There are many aftershaves out there which don't dry out the skin. And don't sting either. These are usually packed with witch hazel. Since it soothes the skin completely without the "sting" effect!
Witch hazel is like Listerine for the face
Listerine without the burn, obviously!
What's the best natural astringent? It's witch hazel. And you've probably established that by now, haven't you? It's not surprising to also find out that witch hazel is very effective when it comes to cleaning the skin as well.
It does an excellent job of eliminating bacteria. Even the ones that tend to give rise to acne.
Say No to Alcohol
Now it's true that alcohol clears out bacteria post shaving. But you're not a caveman anymore. So you don't need an alcohol-based aftershave. That also dries out and tightens your skin at the same time!
When skin becomes dry, it starts to flake and naturally peel away. No wonder there are so many alcohol-free aftershaves currently available.
Tea Tree Oil is an Excellent Cleanser
The combination of witch hazel and tea tree oil has great benefits. The latter is a natural antiseptic. So its primary job is to flush out your pores. To prevent the formation of potential skin infections!
Aloe Vera Offers Soothing Relief
There's no doubt about aloe vera's effectiveness as a natural soother. Its incredibly soothing properties heal irritated skin like no other product. So it's an added bonus if the aftershave you select also contains aloe vera.
The Importance & Benefits of Aftershave
So does aftershave prevent acne? Or is aftershave necessary really? Now it's finally time to discuss the importance & benefits of aftershave.
1. It protects the skin
At the time of shaving, razor removes hair along with your skin's top layer. Leaving your face exposed, vulnerable, and prone to irritation!
In these moments, what your skin absolutely demands is a good aftershave. The kind that creates a protective layer to get rid of possible infections and irritation!
This layer is very important when it comes to dealing with shaving nicks and cuts as well. So you can also expect an aftershave to heal wounds quickly.
2. It offers a refreshing, cooling sensation
Toning down the redness accompanied by shaving is a priority. And it should be, right? So what better product than an aftershave to provide that refreshing, cooling sensation!
More often than not, you shave in a hurry. And when that happens, your skin starts to feel a bit rougher than before. This is when an aftershave comes to your rescue. It brings back the moisture. So the skin doesn't feel barren or tight.
3. It is hygienic
Antibacterial properties are abundantly present in aftershaves. They're the very reason why those pores keep from clogging. And when pores don't clog, ingrown hairs and acne become nonexistent.
You should also know that aftershaves are equipped with astringents. These reach deep down into your hair follicles. To clean skin cells, and that prevents irritation or infections.
4. It smells great
Ever heard of the best smelling aftershave? To be honest, it's the scent that lures most men into buying an aftershave in the first place. They come in a wide range of fragrances. And choosing one from the lot is as fun and exciting as picking brand new cologne.
The End
Just remember that the disadvantages of aftershave spruce up only when it contains alcohol. Because alcohol has the ability to excessively dry out and tighten your skin. Forget about its advantages at such times! The cons overshadow the pros when there's too much alcohol content.
Other than that, aftershaves are quite beneficial. They're an important grooming product in every shaving man's kit. Wouldn't you agree?
About the author:
Jan Murphy is an expert when it comes to recommendations. He writes unbiased articles for men looking for the proper, newest, and best products. And he didn't just happen to become a professional reviewer one day. What you see on his blog is a result of years of hard work and research. And that makes all his posts undoubtedly authentic and very informative.
Sources:
http://www.malegroomingacademy.com/grooming/importance-of-using-an-after-shave-lotion-and-balm/

http://thebearder.com/what-does-aftershave-do/

https://www.healthguidance.org/entry/12715/1/importance-of-applying-an-aftershave.html
Throughout the year, our writers feature fresh, in-depth, and relevant information for our audience of 40,000+ healthcare leaders and professionals. As a healthcare business publication, we cover and cherish our relationship with the entire health care industry including administrators, nurses, physicians, physical therapists, pharmacists, and more. We cover a broad spectrum from hospitals to medical offices to outpatient services to eye surgery centers to university settings. We focus on rehabilitation, nursing homes, home care, hospice as well as men's health, women's heath, and pediatrics.