If you consider massage as a career option, you should weigh all the pros and cons before you start chasing your dreams. Here you can find the list of main benefits of being a massage therapist these days:
Affordable course
Most massaging courses are pretty affordable. You will not need to spend years learning theory. Within a matter of months, you will have a chance to learn anatomy, physiology, medical terminology, massage ethics, techniques, and upper extremity anatomy. 
The best thing is that there is a strong demand for professional massage therapists these days. So, finding employment after completing the course and obtaining a licence will not be a problem. For instance, you can get practical experience in nursing homes, chiropractic offices, recreational facilities, gyms, and hotels.
Flexibility
As a massage therapist, you can choose your work schedule. It can help you maintain a healthy work balance.
Working with people
If you like meeting new people and helping others to feel better, a career in massage therapy is right for you. Every professional masseuse gets a portion of gratification after a long day at work. Knowing that your skills help other people to destress and heal is eternally satisfying.
Chances to grow
At some point in your career, you will have a chance to become a self-employed massage therapist. It can give you the possibility to choose your clients, working space, and price the service on your own. Learn more about going self-employed in the infographic below: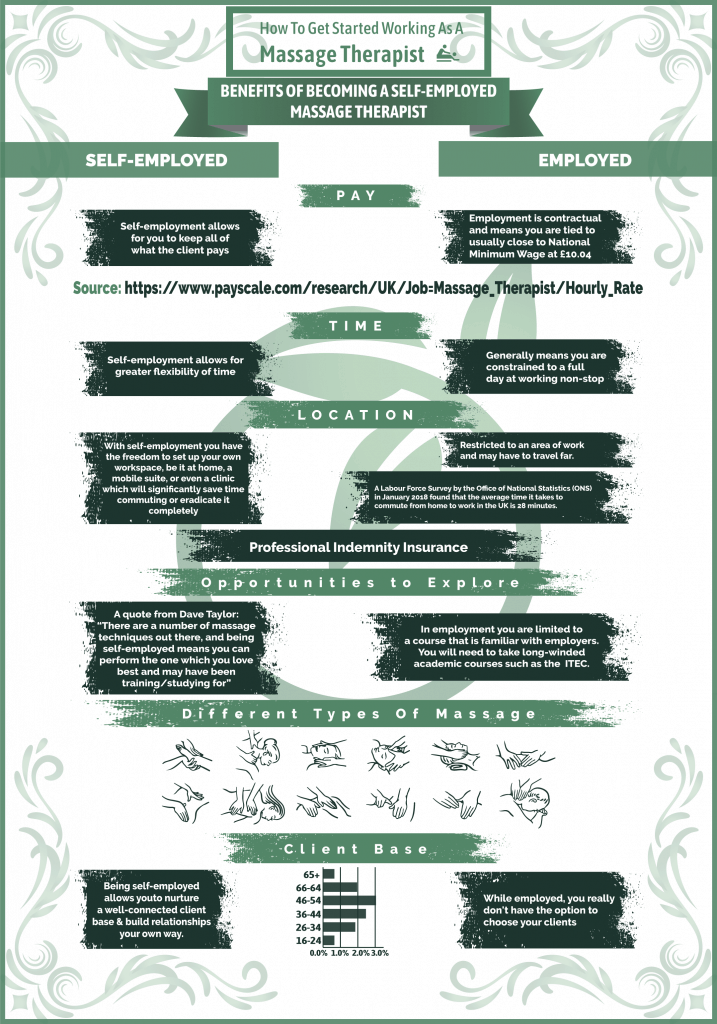 Throughout the year, our writers feature fresh, in-depth, and relevant information for our audience of 40,000+ healthcare leaders and professionals. As a healthcare business publication, we cover and cherish our relationship with the entire health care industry including administrators, nurses, physicians, physical therapists, pharmacists, and more. We cover a broad spectrum from hospitals to medical offices to outpatient services to eye surgery centers to university settings. We focus on rehabilitation, nursing homes, home care, hospice as well as men's health, women's heath, and pediatrics.