Graduation ceremonies were held Wednesday, June 20, 2018 for the 58th graduating class of ACMH School of Radiologic Technology. 
The three students completing the two-year program are Alexis Sanderson of West Sunbury; Alyssa Detwiler of Williamsburg; and Ashley Smith of New Bethlehem.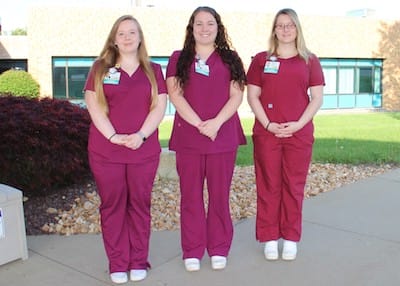 Guests were welcomed to the ceremony by Mona Rupert, Vice President of Clinical Services.  Dr. David Lott, Associate Professor of Biology at Clarion University of Pennsylvania, presented the graduation address.  Graduating student, Alyssa Detwiler, gave the student address. Each student received a school pin and certificate presented by Mona Rupert, Vice President of Clinical Services; Glenna Kanish, Educational Coordinator; and Jenny Sturgeon, Clinical Coordinator.
Ashley Smith received the Donald W. Minteer Scholastic Award for her outstanding academic efforts. Dr. D. Wesley Minteer presented the award in honor of his late father, Dr. Donald W. Minteer, who founded the ACMH School of Radiologic Technology in 1958.  The award is presented annually to the student who has attained the highest grade point average at the time of graduation. 
Upon graduation the students are eligible to take the national certification examination offered by the American Registry of Radiologic Technologists (ARRT). 
A new class of radiologic technology students started classes July 9, 2018.
The students who began this course are:
(From left to right) Matthew Duncan, Leechburg; Laken Moore, Cowansville; Courtney Paton, North Versailles; Danae Bergbigler, Butler; and Brittney Woolaghan, Harmony.
Their two-year instruction program includes classes in medical terminology, anatomy and radiographic procedures, patient care and professional ethics, radiation protection and radiobiology, radiation physics, and radiographic exposure.
The School at ACMH began in 1958 and is fully accredited by the Joint Review Committee on Education in Radiologic Technology (JRCERT).  Accreditation is evidence that the school is providing a high-quality educational program meeting or exceeding accepted standards for operating a radiologic technology program.   The ACMH School of Radiologic Technology has affiliations with Bloomsburg University of Pennsylvania, Butler County Community College, and Clarion University of Pennsylvania. For more information concerning the program, contact Educational Coordinator, Glenna Kanish, M.A.Ed., R.T.R.M. or Clinical Coordinator, Jenny Sturgeon, B.S., R.T.R. at 724-543-8206 or visit the program's website at www.acmh.org/school.