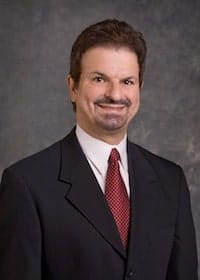 By Rafael J. Sciullo, MA, LCSW, MS
From my office window I have a view of patients and their loved ones as they first arrive to our Center for Compassionate Care in Mt. Lebanon. Over the years, I've noticed a few things about the walk that caregivers make to our front doors. They often appear tired and sometimes distraught; for others there is urgency in their strides. When they cross our threshold, for most, it is a step into the unknown.
No matter their circumstance, the families we serve take that step with faith – faith that their loved one will be comfortable, respected and treated with compassion. At Family Hospice and Palliative Care, I have been extremely proud to be witness to that care our staff extends to patients, families, partners, vendors and benefactors. My step of faith started with Family Hospice in 2001 – and I continue to have faith in our staff and organization as one of the finest in the country.
As was announced at the end of November, I am embarking on the next step of my career: beginning in February, I will be the President and CEO of Suncoast Hospice in Clearwater, Florida, the nation's largest non-profit hospice organization.
This is a bittersweet moment for me as I've had the opportunity to lead what many of my peers believe to be one of the best hospice programs in the business. I am eternally grateful to our entire staff, to our tremendous volunteers and to our community-focused board of directors, for their service, support and encouragement during my 12 years here. I will truly miss Family Hospice, these people and Pittsburgh. As a native of Bloomfield, I cherished the opportunity to help Family Hospice grow while serving Western Pennsylvania.
As I reflect on my time here, I think about the fact that Family Hospice was serving 39 patients a day when I arrived in 2001. Today, our organization serves an average of 450 community patients daily with a comprehensive 19-program breadth of services that provide care and support for patients and families alike.
I remember the local children we serve at Camp Healing Hearts, our free day camp for kids who are coping with the loss of a loved one. Each with a unique story and each eager to heal.
I think about the couples who have chosen to renew their marriage vows at our inpatient centers in Mt. Lebanon and Lawrenceville. Our staff is always happy to take part by providing cakes, flowers, or serving as "attendants."
I recall with gratitude the countless individuals and foundations who support Family Hospice through charitable contributions. Their generosity allows our non-profit organization to continue specialized services that are above and beyond those covered by Medicare, Medicaid and insurance plans. They understand the needs of those we serve and believe in our mission of providing quality compassionate care.
I recall the first-ever patient we served at our Center for Compassionate Care in Mt. Lebanon, a 22 year-old mother of two who qualified for our free care.  Opening The Center for Compassionate Care is truly something I remain proud of. But after the pomp and circumstance of dedicating a new facility, we witnessed a tender slice of life: this young mother seated in her wheelchair in our Center's beautiful garden courtyard while her two young children ran about and played. For a precious moment, we allowed her to be a mom, not a patient – and allowed her kids just to be kids.
And I think about the strong health care environment here in Western Pennsylvania. The region's reputation for care and treatment is stellar. It has been exciting to watch so many breakthroughs and developments come from our corner of the world.  Family Hospice remains proud to be a hospice leader in the area. The organization is stronger now than in any other point in its history.
As for this column, it will continue to bring you information and stories about what we do at Family Hospice and more importantly, why we do it. It's a privilege to share our experiences with you and spread the word about the benefits of hospice and palliative care.
It has been my pleasure sharing this column with you every month. My thanks go out to the talented and passionate members of Western Pennsylvania's health care community – those with whom I've had relationships and those I never met – because you all make a difference.  And I extend my eternal thanks and affection to my "family" at Family Hospice. I cannot think of a more dedicated group of people. My time as President and CEO has been a true delight.
I hope our paths will cross again.
Rafael J. Sciullo, MA, LCSW, MS, has been President and CEO of Family Hospice and Palliative Care since 2001, and is Past Chairperson of the National Hospice and Palliative Care Organization. Family Hospice and Palliative Care serves nine counties in Western Pennsylvania. More information at www.FamilyHospice.com and www.facebook.com/FamilyHospicePA.
Throughout the year, our writers feature fresh, in-depth, and relevant information for our audience of 40,000+ healthcare leaders and professionals. As a healthcare business publication, we cover and cherish our relationship with the entire health care industry including administrators, nurses, physicians, physical therapists, pharmacists, and more. We cover a broad spectrum from hospitals to medical offices to outpatient services to eye surgery centers to university settings. We focus on rehabilitation, nursing homes, home care, hospice as well as men's health, women's heath, and pediatrics.