By Christopher Cussat
The Pittsburgh Ballet Theatre (PBT) has begun providing an accessibility and outreach program for the blind and visually-impaired so that individuals with these physical challenges can also experience the beauty and power of ballet dance.
According to Alyssa Herzog Melby, Director of Education and Community Engagement for the PBT, such progressive accessibility services are fairly new for the organization. Melby has always personally been very invested in disability rights. Her cousin, who died from Muscular Dystrophy in 2003, loved all the arts and was luckily able to participate in them as a visual artist and online music critic. "Being involved with his struggles, though, made me much more aware that not everyone with a disability has those opportunities and access to the arts, and it turned me into an advocate for arts accessibility."
When she came to PBT in March 2011, Melby soon realized that the organization did not yet have accessibility fully on its radar. Coincidentally, around this time, the Greater Pittsburgh Arts Council, with support from the FISA Foundation, was launching an arts and accessibility initiative. "I took many of their workshops over the course of the next year, and with their support, attended the Leadership Exchange in Arts and Disability (LEAD) conference in August 2012," she adds.

Because dance is a visual art form (and because most of classical ballet music does not have any lyrics), Melby believed that a good community to begin providing services for was the visually-impaired and blind community. "There were also some very easy changes that we could begin to make on the road to providing access to our art form." In fact, the PBT quickly accomplished two things by the fall of 2012:  adding an accessibility page on its website, as well as providing braille and large-print programs at all PBT performances.
But one of the most prominent services that the PBT now provides for the visually-impaired community is audio description. Melby says that Pittsburgh is very fortunate to have two organizations, the Pittsburgh Opera and City Theatre, which have had well-established audio description programs for over 10 years—but no Pittsburgh dance company had yet offered it.
She explains that there are a couple of reasons for this:
"Since there are no lyrics or dialogue, the audio describer has to tell everything—the story, the movements, the costumes, the scenery, etc. It's more intensive than opera and theatre audio description."
"If you're unfamiliar with dance, the thought of describing the movements can be daunting! People think that you have to know ballet terminology, but that's not the case. We instead describe the movements in everyday language—jump, leap, turn, etc.—and focus on the overall quality of the dance (smooth, precise, rigid, bouncy, etc.)."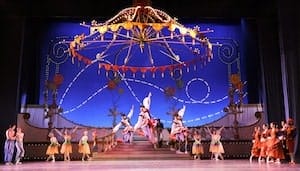 Once the PBT knew it wanted to start audio description, it brought in one of the top audio describers in the country, Ermyn King, to lead the training in conjunction with the Pittsburgh Cultural Trust.
The audio description program was piloted with a performance of "The Nutcracker" on December 14, 2012. "Because it was my first time describing and our first time providing the service, we offered a complimentary ticket to patrons with visual impairments who would listen to the performance and offer feedback during a post-performance focus group," notes Melby. She adds that prior to the performance, some patrons also participated in a sensory seminar, or "touch tour" where they felt pointe shoes, a costume, and tactile maps of the ground plans and of basic ballet positions.
During the feedback session, patrons remarked how astonished they were at the amount of activity that happens in ballet. Patrons also encouraged Melby to find a better balance between describing and allowing time for music—which was accomplished during the next audio description for "Moulin Rouge." She adds, "In addition, for this performance, we instituted an Audio Description Volunteer team—a group of four community members who act as sighted guides for the patrons (if the patron wishes) and help them navigate the theatre, obtain assistive-listening devices, etc."
Melby contends that the goal of the program is pretty simple:  to ensure access to PBT's art form for everyone in the Pittsburgh community. "No matter a person's abilities, we want people to enjoy and experience the awe and splendor of ballet, dance, and movement—and we're committed to finding ways to achieve that goal by providing accommodations wherever and whenever we can," she explains.
Through this program, Melby has definitely witnessed how art can connect with people—particularly those with special health needs. "Sitting in the sensory seminar with patrons and observing their reactions when they touch a pointe shoe and 'see' how hard it is, or feel the wooden human model we have put into various ballet positions—their reactions to the wonders of what the human body can do and is capable of are worth all of the time invested into the program," she explains. "My job is to connect people to this art form—and this program is absolutely achieving that!"
The PBT plans on expanding this successful outreach program and continuing to make its art accessible to all patrons. For example, this upcoming year, the PBT will be providing accommodations for sign-language interpreting and closed-captioning for the deaf and hard-of-hearing communities. Melby concludes, "Furthermore, we are ecstatic to become the first professional ballet company in the United States to offer an autism-friendly performance of 'The Nutcracker' this December!"
For more information on the Pittsburgh Ballet Theatre's outreach program call: 412.454.9105 or email: [email protected].
Throughout the year, our writers feature fresh, in-depth, and relevant information for our audience of 40,000+ healthcare leaders and professionals. As a healthcare business publication, we cover and cherish our relationship with the entire health care industry including administrators, nurses, physicians, physical therapists, pharmacists, and more. We cover a broad spectrum from hospitals to medical offices to outpatient services to eye surgery centers to university settings. We focus on rehabilitation, nursing homes, home care, hospice as well as men's health, women's heath, and pediatrics.