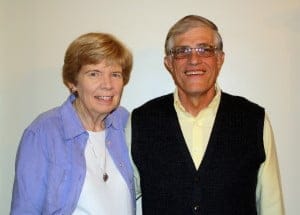 The Allegheny County Medical Society Foundation (ACMSF) will present William H. Markle, MD and Mary Markle, RN, with the 2014 Physician Volunteer Award during its annual community awards and fundraising gala, Saturday, March 7, 2015 at Heinz Field – East Club Lounge.
The Physician Volunteer Award, established in 2001, recognizes a physician for the donation of their time or talents for charitable, clinical, educational or community service activities, domestically or internationally.
Dr. Markle, specializing in family medicine, began his career starting a rural clinic in Mannboro, Virginia in a medically underserved area. The clinic operates today as a federally qualified health center. After several months caring for refugees in Thailand in 1981, he sought ways to serve others internationally and worked as a medical missionary in Indonesia from 1987 to 1994.  During that time, Dr. Markle and his wife Mary, a registered nurse, shared a commitment to caring for the most vulnerable and dedicated their lives to caring for the most-needy in society. 
In 2001, Dr. Markle was one of the founding directors of the Pittsburgh chapter of the not-for-profit "Shoulder to Shoulder, Inc.," and helped establish an on-going medical and civic mission to the village of San Jose, Honduras, and the surrounding communities.  Shoulder to Shoulder's commitment has now resulted in the construction of a school and health clinic where none existed, so that care can be provided year round by a physician and nurse in residence.  Dr. Markle also spends one week per year in the mountains above Port-au-Prince, Haiti, with the Functional Literacy Ministry as well as recruiting and precepting medical students and residents who accompany him there, profoundly influencing the next generation of global health care servants.
Dr. Markle's expertise has been recognized to the extent that he has been called to participate in medical teams on disaster relief missions during the natural disasters of a tsunami in Aceh, Indonesia, in 2005, the Haiti earthquake in 2010, and the Philippines in 2013 after Hurricane Yolanda. He has also joined medical brigades promoting prevention and chronic disease management.
Locally, Dr. Markle became director of the Family Medicine residency program at UPMC McKeesport Hospital in 2002.  Since that time, he recognized the presence of a large, medically underserved segment of the community in McKeesport and the Mon Valley and partnered with his church to create the Ninth Street Free Clinic in McKeesport in May 2007. 
This one-day-a-week clinic has become the focus of a valuable charitable outreach to a community wider than McKeesport and has served as a model of care of a multi-disciplinary team of nurses, volunteers, medical and pharmacy students, family medicine and internal medicine residents, and practicing physicians from several disciplines.  Dr. Markle negotiates additional clinical services when needed, has established clinical guidelines for care to ensure the highest quality for everyone who receives care, and anticipates ongoing needs in order to plan strategically for this target population.
Though officially semi-retired, Dr. Markle continues to work three to four days a week at his UPMC office in McKeesport and puts in about 16 volunteer hours a week running the Ninth Street Free Clinic. His wife Mary serves with him, organizing the volunteers, assisting with patients where needed and helping with administrative tasks.  Together, their goal is to provide the basic care to patients who are not currently receiving care. Mary has also participated in the medical missions to Haiti and Honduras and has volunteered locally with the Greater Literacy Council. She has always worked side-by-side with her husband to serve others and facilitate the work they have been called to do.
"There is no doubt that Dr. Bill Markle is a renaissance man, a servant leader, and divinely inspired and supported," says Jeannette South-Paul, MD, Andrew W. Mathieson UPMC Professor and Chair, family medicine.   "He has shared his many blessings with countless medically underserved and economically disadvantage citizens and in so doing has endeared himself to his friends and colleagues and ensured that another generation will further this noble mission."
Dr. and Mrs. Markle reside in Clairton.
The Allegheny County Medical Society represents physicians from all specialties and is dedicated to providing leadership and advocacy for patients and physicians. The organization has been serving Allegheny County since 1865.
##
Throughout the year, our writers feature fresh, in-depth, and relevant information for our audience of 40,000+ healthcare leaders and professionals. As a healthcare business publication, we cover and cherish our relationship with the entire health care industry including administrators, nurses, physicians, physical therapists, pharmacists, and more. We cover a broad spectrum from hospitals to medical offices to outpatient services to eye surgery centers to university settings. We focus on rehabilitation, nursing homes, home care, hospice as well as men's health, women's heath, and pediatrics.