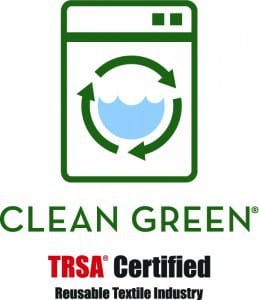 The achievement marks another milestone in the company's continuing program to protect the environment and conserve energy
DuBois, PA; June 17, 2014/ Recently, Paris Healthcare Linen Services and Paris Uniform Services were awarded Clean Green® certification by TRSA (formerly, Textile Rental Services Association), acknowledging that all four operating plants meet its high standards for environmental stewardship and energy conservation.  Paris decided to pursue Clean Green certification to indicate to its communities, its customers and its employees how important it is for everyone to take a proactive approach to these important issues.
 Paris is continually refining its operations and processes to conserve valuable resources.  A recent example is a reduction in water consumption of approximately 40 million gallons annually, accomplished with new equipment and modified wash formulas.  "And 40 million gallons less going in means 40 million fewer gallons requiring treatment for discharge," said tom Walsh, Director of Engineering.    "It's an energy, water and chemical reduction that represents the best of what Clean Green stands for.  We are always evaluating and incorporating the latest technologies and processes to run our business in the most responsible, sustainable way," he added.
Operational efficiency is key to success in the textile services industry, which is heavily dependent upon water and heat energy for laundering.  Dave Stern, President and CEO of Paris Companies, adds another perspective: "Our industry markets itself on being an energy efficient and environmentally responsible alternative to disposable products and linen or uniform ownership, which it is.  It only makes sense then that leaders of our industry enthusiastically  embrace the best practices and the most sustainable processes.  Clean Green certification is a credible way to demonstrate a commitment to practice what we preach."
Paris Companies is a privately-owned, independent company providing textile and linen management services to hospitals and other health care organizations. Paris also provides custom uniform rental programs and laundering services to industrial and commercial markets.  The company services more than four thousand customers in Pennsylvania, New York, Ohio and West Virginia with an expanding service area in the mid-Atlantic region.   (For more, see www.parisco.com)