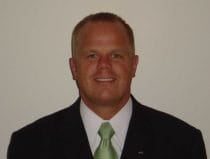 By Jason Lehrke
Can you imagine going to the grocery store and not being able to find a cart?  Or finding only carts with missing wheels or ones that were covered with sticky filth?  Thankfully that scenario rarely happens because the grocery store understands that it will lose customers… immediately and forever…if they didn't provide clean, well-functioning carts whenever they were needed.  Their incentive is clear and competition requires them to comply with this basic market requirement.
A similar situation takes place every day in many U.S. hospitals with the inability to provide scrubs to clinicians that are professional, clean, and – most importantly – available whenever needed.  For decades, hospitals have provided, or at least attempted to provide, scrubs for their physicians and nurses in surgical and diagnostic areas.  Because of a misalignment of incentives for the multiple parties involved in the provision of these scrubs, the simple promises of availability, cleanliness and appearance go unfulfilled.
The reason for the scrub availability problem starts with the disparate groups and individuals responsible for the program.  It starts with the purchasing department, whose goal is to minimize overall cost; they buy inexpensive scrubs because there is usually no inventory control.  Cheaper scrubs mean shorter useful life and wearer dissatisfaction.  Then the housekeeping department gets involved by stocking and replenishing clean scrubs, as well as removing the soiled ones.
Their objective is efficiency, which leaves garment quality as an afterthought – especially if there aren't enough scrubs available to stock.  Next, the laundry gets involved… using a process designed for bed linens.  Because scrubs are non-standard (less than 3% of total laundry volume for most hospitals), they are treated like linen instead of a garment – washed with chlorine bleach and not inspected for damage.  In fact, because they are paid by the weight of clean product delivered, they have the incentive to put even the most ragged of garments back in the program.
All these issues leave the wearer in a quandary: how do they insure that they always have scrubs when they need them?  Easy, they hoard clean scrubs and take them home to launder.  They wear scrubs from other facilities.  Or they are forced to wear unprofessional-looking garments in a job that demands professionalism.
Some hospitals have resorted to purchasing automated dispensers for scrubs, albeit with limited success.  In many instances, these machines become just another barrier to getting clean scrubs and continue to result in adverse behavior on the part of the wearer.  The capacity and design of early machines required scrubs to be assigned in pre-determined sets of varying sizes.  But a majority of wearers use different size tops and bottoms.  And the machines required refills two or three times a day – usually at morning rush hour when garments and housekeeping labor were unavailable.  An empty machine does not fill itself – a lesson quickly learned by early adopters of this technology.
So how do you fix this problem?  It's as simple as aligning the incentives – just like in the grocery cart example.  Imagine if the grocery manager was not responsible for carts – that people could freely take them home.  Eventually there would be a problem, and one that would not be fully solved until the manager had both responsibility and authority to make a change.  With scrubs, the answer is similar.  By combining the purchase of the scrubs, the installation of a more capable dispensing machine and a garment-focused laundry service provider, all of the incentives are aligned to make the program work flawlessly.
If the company buying garments is responsible for making sure they look good, they inspect and repair or remove inappropriate attire.  If this company also owns the machine and the garments, they will make every effort to maintain the equipment in good condition and ensure that garments are being properly returned.  Because there is complete program control, additional benefits can be achieved – like poly-wrapping individual garments to insure cleanliness throughout the process.
Scrubs have been a thorn in the side of everyone involved in a hospital-provided program: purchasing despises buying large quantities of items they know are going to be lost or stolen; housekeeping gets blamed for not providing scrubs, even though they have little or no control over them; the laundry has to modify processes and procedures to do them correctly; and, most importantly, the wearer is unable to do their job – which is to save lives and generate income for the facility.  Responsibility without authority leads to chaos, and only by letting a single entity run the program, thereby getting out of the scrub business, can a hospital fix their scrub business.
Jason Lehrke is a Healthcare Account Manager for Cintas Corporation – Healthcare Division. Cintas Corporation (NASDAQ: CTAS), based in Cincinnati, OH,  is the industries leading business to business service provider, specializing in corporate identity apparel programs, secure document destruction, storage and imaging, first aid and safety, fire protection, restroom cleaning and supplies, cleanroom resources, carpet and tile cleaning, promotional products, entrance mats, microfiber programs, and OR scrub programs for healthcare facilities across the country.  Recognized by Forbes and Fortune Magazines as "One of the Best Managed Companies" and "Most Admired Companies" throughout North America, Cintas provides solutions to many types of healthcare needs ultimately impacting the image and brand of health systems while improving patient care. For more information, visit  www.cintashealthcare.com. 
Throughout the year, our writers feature fresh, in-depth, and relevant information for our audience of 40,000+ healthcare leaders and professionals. As a healthcare business publication, we cover and cherish our relationship with the entire health care industry including administrators, nurses, physicians, physical therapists, pharmacists, and more. We cover a broad spectrum from hospitals to medical offices to outpatient services to eye surgery centers to university settings. We focus on rehabilitation, nursing homes, home care, hospice as well as men's health, women's heath, and pediatrics.