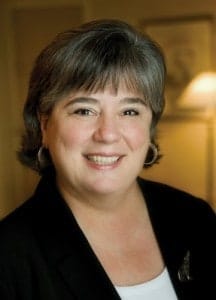 The Oncology Nursing Society (ONS) today named Brenda Marion Nevidjon, RN, MSN, FAAN, as its new chief executive officer (CEO), effective September 1.
"We are excited to welcome Brenda as the new ONS CEO. Her distinguished career and leadership skill set will position ONS for the future within a complex and changing healthcare system, while achieving the ONS mission to promote excellence in oncology nursing and quality cancer care. It is an exciting time for ONS and the ONS Board of Directors," said ONS President Margaret Barton-Burke, PhD, RN, FAAN.
"I am honored to be selected as the ONS CEO," Nevidjon said. "I look forward to working with the Board, staff, members, and the larger cancer care community as we transform the provision of cancer care in a changing healthcare environment."
Nevidjon is currently a professor at the Duke University School of Nursing and coordinator of the Systems Division, which includes the nursing informatics, nursing education, and nursing and healthcare leadership graduate majors. She has had an extraordinary nursing career of leadership in service and education and was the first nurse and first woman to be chief operating officer of Duke University Hospital. Through diverse clinical and administrative experiences in Canada, Switzerland, and the United States, she has devoted her energy to bridging practice settings and academic environments to advance patient care, creating innovative work environments, promoting scholarship in practitioners, and developing leaders.
She has helped develop professional nursing organizations at the local, national, and international levels and has made lasting contributions to ONS. Nevidjon is a past president of ONS, has completed a term on the Institute of Medicine's National Cancer Policy Forum Board, and has served on other cancer-related boards, most recently the Association of Community Cancer Centers and the International Society of Nurses in Cancer Care.
With extensive publications in the nursing literature, Nevidjon is regarded as a mentor for nurses to develop their power and voice through publication.  Her diverse contributions include two volumes of oncology nurse narratives as well as books, articles, and chapters on oncology and administrative topics, such as the role of advanced practice nurses and the nursing shortage. She consults with organizations related to work culture, team building, and leadership development.
Nevidjon received the Duke School of Nursing Distinguished Alumni Award, the ONS Trish Greene Quality of Life Memorial Lectureship, and the American Nursing Association's Honorary Recognition Award for her sustained contributions to the nursing profession. She is a graduate of the inaugural class of the Robert Wood Johnson Nurse Executive Program and the Johnson & Johnson–Wharton Fellows Program in Management for Nurse Executives and is a fellow in the American Academy of Nursing.
ONS is a professional association of more than 35,000 members committed to promoting excellence in oncology nursing and the transformation of cancer care. Since 1975, ONS has provided a professional community for oncology nurses, developed evidence-based education programs and treatment information, and advocated for patient care, all in an effort to improve quality of life and outcomes for patients with cancer and their families. Learn more at www.ons.org.
Throughout the year, our writers feature fresh, in-depth, and relevant information for our audience of 40,000+ healthcare leaders and professionals. As a healthcare business publication, we cover and cherish our relationship with the entire health care industry including administrators, nurses, physicians, physical therapists, pharmacists, and more. We cover a broad spectrum from hospitals to medical offices to outpatient services to eye surgery centers to university settings. We focus on rehabilitation, nursing homes, home care, hospice as well as men's health, women's heath, and pediatrics.