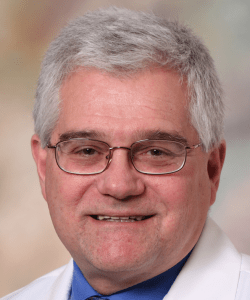 Dr. James Dewar, board-certified family medicine physician and a Johnstown native, has returned to practice in his hometown. Dr. Dewar joined Conemaugh Physician Group – East Hills Primary Care and is now caring for patients of all ages at the new Conemaugh East Hills Outpatient Center.
Dr. Dewar is a graduate of Westminster College in Wilmington, PA, and the University of Pittsburgh School of Medicine. He completed his family practice internship at the Naval Hospital in Jacksonville, Florida, and a family practice residency at St. Elizabeth Hospital Medical Center in Youngstown, Ohio. As part of a navy career, Dr. Dewar served as Chief Medical Officer of Destroyer Squadron 24 at the Naval Station in Mayport, Florida and as a General Medical Officer with Branch Medical Clinic at the Naval Air Station in Jacksonville.
For the past ten years, Dr. Dewar has been practicing at UPMC in Pittsburgh where his duties included serving as Executive Vice Chair of the Department of Family Medicine. Dr. Dewar chose to return to the area to be closer to family. "I've been in and around this area for my entire life," says Dr. Dewar. "The Laurel Highlands region is a great place to live. It is so nice to be back here for this next step in my career." 
Dr. Dewar joins Conemaugh Physician Group – East Hills, the practice of Drs. Geraldine Amper, David Johns, Kavitha Manjunath, Lisa Wirfel and certified registered nurse practitioner (CRNP) Julie Lesneski.  "The Conemaugh East Hills practice is in a gorgeous new facility," says Dr. Dewar. "It is laid out really well for patients and the facility has just about every service under one roof so it is very convenient."
Dr. Dewar's wife is also a physician. They are the proud parents of three adult children.
To learn more, visit www.conemaugh.org.
Throughout the year, our writers feature fresh, in-depth, and relevant information for our audience of 40,000+ healthcare leaders and professionals. As a healthcare business publication, we cover and cherish our relationship with the entire health care industry including administrators, nurses, physicians, physical therapists, pharmacists, and more. We cover a broad spectrum from hospitals to medical offices to outpatient services to eye surgery centers to university settings. We focus on rehabilitation, nursing homes, home care, hospice as well as men's health, women's heath, and pediatrics.