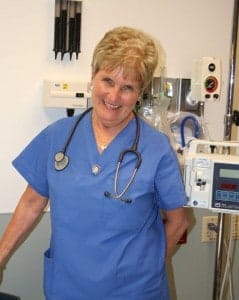 Mariaelena Perowski, RN, CCRN, PHRN, wants to help people get well quickly. That's why this dedicated professional staff nurse is at home in the Emergency Department at Monongahela Valley Hospital (MVH). Perowski, who is a resident of Charleroi, has spent the last 21 of her 29 years as a full-time nurse providing emergency care to residents of the mid-Mon Valley. She is the recipient of prestigious Cameos of Caring® Award, which recognizes nurses who demonstrate excellence in nursing care, serve as advocates for patients and families, and embodies the essence of the nursing profession.
While her mother wanted her to study nursing, Perowski initially followed a different path — she married and started a family. At the encouragement of her friend, the mother of three applied to and was accepted at Washington Hospital School of Nursing when her youngest child was only 5 years old. She studied diligently with her friend Georgina Koslosky, RN, who is the Employee Health Nurse at MVH. Out of their class of 50 student nurses, Perowski and Koslosky received the "Exceptional Care Giver" awards.
Early in her career at MVH, Perowski  rotated between the Intensive Care, Critical Care and Progressive Care units. In the years that followed, she provided care in every unit with the exception of the Operating Room and Delivery. She also served as a flight nurse for four years and briefly provided in-home medical care. Today, her quick response and caring nature is not limited to MVH's Emergency Department — she will provide emergency medical care to anyone in distress. Recently, while dining at a local restaurant, Perowski and her daughter, who is a flight attendant, sprung into action to provide CPR and chest compression to a woman in cardiac arrest. When paramedics arrived, the woman was flown to a hospital where she received an automated implanted cardiac defibrillator.
Perowski is certified in Neonatal Advanced Life Support and Trauma Nurse Care Curriculum and is a National Institutes of Health Stroke Scale Provider. She also serves as a nurse educator teaching Pediatric Advanced Life Support and Advanced Cardiac Life Support. In addition, she is a preceptor and mentor for new MVH employees and college nursing students.
"Mariaelena is passionate about nursing," said Mary Lou Murt, senior vice president of nursing at MVH. "She continuously updates her knowledge on the best principles of care and shares what she learns with her colleagues. Nurses repeatedly express that Mariaelena is the best mentor in MVH's Emergency Department."