As part of Monongahela Valley Hospital's (MVH) mission to enhance the health of the residents of the mid-Monongahela Valley, MVH has created a new initiative called the Community Care Network (CCN).
The CCN, which is available free of charge, has been developed to help people receive the best health care possible through a comprehensive series of care coordination and educational strategies. The CCN helps people transition to the next step of care and avoid readmission to the hospital. Whether it's home or to a skilled nursing facility, rehab center or another hospital, MVH works to ensure a seamless continuity of care.
The CCN consists of an interdisciplinary team made up of a medical director, CRNP, pharmacist, dietitians, social worker, behaviorist, and patient navigators. The team focuses on the signs and symptoms of chronic diseases and works with current care providers to help people understand and manage their care.
The team also works with other community agencies to utilize all available resources to take medical follow-up care to a new level. The team, under direct medical supervision, can help ensure that people are following treatment plans and actually taking medications as prescribed. In addition, the CCN focuses on eliminating missed appointments with PCPs and specialists. With an emphasis on early detection, in-home monitoring can be provided to help identify changes in symptoms early on, which could eliminate unnecessary readmissions.
"Personally, I like all aspects of this program," said Louis J. Panza Jr., president and CEO of Monongahela Valley Hospital.  "One of the best benefits of the CCN is that we can begin care coordination during hospitalization, especially those with challenging conditions or circumstances that result in readmissions or multiple emergency room visits."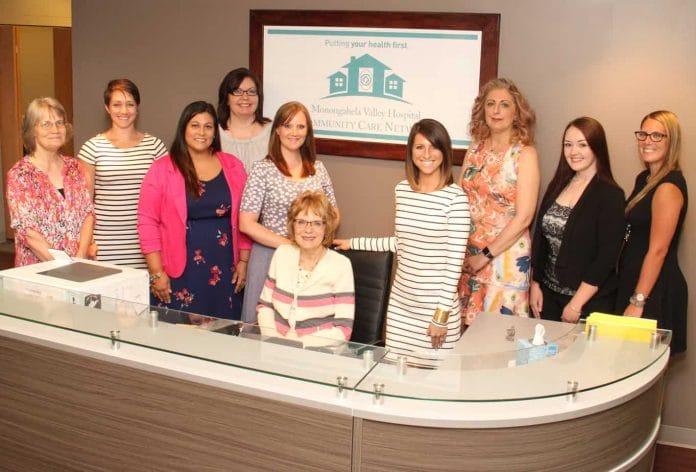 (from left to right) Cheryl Brazelton, social work,  Laine Greenawalt, nutritionist,  Rhea Regul, navigator, Pam Suehr, RN, care coordinator,  Kristen Graney, pharmacist, Lynda Nester, executive director, Megan Murphy, behaviorist, Susan Flynn, CEO Vale-U Health, Hailey Wiant, intern, Sarrah Park, navigator.  Missing from the picture is Deborah Holman, RN, care coordinator and Kristen Cunic, CRNP.