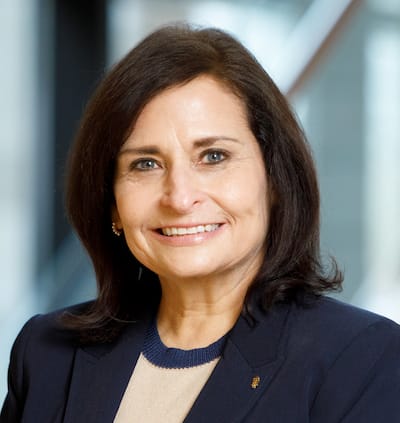 St. Clair Health announced today that Marion A. McGowan was recently appointed to the role of Senior Vice President and Chief Operating Officer. She will succeed Michael J. Flanagan, who served in the position for 15 years before becoming President and Chief Executive Officer of St. Clair Health in July 2022.
"We are delighted to welcome Marion back to Pittsburgh and to St. Clair Health," shared Flanagan. "In completing a national search for this position, it was Marion's experience across the healthcare continuum and her focus on quality, patient safety, innovation, and value that made her an outstanding fit for St. Clair Health."
McGowan joins St. Clair Health with a wealth of progressive healthcare leadership experience. She most recently served as Executive Vice President and Chief Operating Officer with Baystate Health System in Springfield, Massachusetts. In this role, she was responsible for the operations of both the academic health care delivery system and provider-sponsored health plan.
Prior to her time with Baystate, McGowan worked as Chief Clinical Administrative Officer and Senior Vice President, Population Health for UPMC Health Plan. In addition, she served in positions with increasing levels of responsibility at Lancaster General Hospital in Lancaster, Pennsylvania, including over ten years as the Executive Vice President and Chief Operating Officer. McGowan completed her tenure with Lancaster General as Executive Vice President and Chief Population Officer.
"I am thrilled to be back in my hometown and honored to work together with the St. Clair Health team as we serve our community," said McGowan. "I impressed by the commitment and hardworking nature of the St. Clair employees and am confident that together we can make an incredible future for health care in the community."
McGowan earned a Bachelor of Science from Carlow College. She also holds a Master of Public Management from Carnegie Mellon University, as well as a Doctor of Philosophy in Leadership from Alvernia University.
About St. Clair Health
St. Clair Health is a nationally recognized, integrated health system with more than 2,500 employees and 600 physicians serving 500,000 residents of the region. It encompasses St. Clair Hospital; St. Clair Medical Group—a 135-physician multispecialty group; St. Clair Health Foundation; and other related entities. In 2016, St. Clair Health became a member of Mayo Clinic Care Network. As a leader in high value healthcare, it participates with all major insurers. For more information, visit: stclair.org.
Throughout the year, our writers feature fresh, in-depth, and relevant information for our audience of 40,000+ healthcare leaders and professionals. As a healthcare business publication, we cover and cherish our relationship with the entire health care industry including administrators, nurses, physicians, physical therapists, pharmacists, and more. We cover a broad spectrum from hospitals to medical offices to outpatient services to eye surgery centers to university settings. We focus on rehabilitation, nursing homes, home care, hospice as well as men's health, women's heath, and pediatrics.