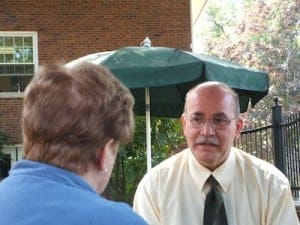 By Rafael J. Sciullo, MA, LCSW, MS
Here's an easy question to answer: Can you find many parents that haven't talked with their kids about the dangers of smoking? Alcohol? Drugs? Sexual activity?  Early education and life lessons are essential components of positive development. Think about it as you consider this…
It's something we all will face at some time, but most of us choose not to talk about – or even think about. Eventually, we will be involved in deciding upon a plan of care for a loved one with a life-limiting illness.
It may be a parent, grandparent, sibling, or close friend. Of course, it's not easy to imagine, but charting a course of action is necessary. For those receiving end-of-life care, the priorities are comfort, dignity, and quality of life. Respecting the wishes of patients and their loved ones is at the heart of hospice care. And making those wishes known ahead of time is vital.
Hospice often meets families in a time of crisis – such as when they receive "bad news" about a loved one. Emotions run high and stress builds. This is certainly not the ideal time to be making important decisions. The significance of advance care planning cannot be overstated. Having "the conversation" with a doctor and loved ones ahead of time means it's that much easier to provide comfort that the patient needs.
The Massachusetts Senate recently recognized just how important this is, by passing the "Palliative Care Awareness" amendment, requiring all doctors and nurses to talk with dying patients about their end-of-life options. This is a huge step in ensuring patients get the care they want by informing them of all their choices.
Why was legislation needed? Because a recent study published in the journal Cancer (Jan. 2010) shows that only 26% of 4,000 physicians surveyed said they discussed hospice options with their patients. If the study reflects doctors' practices, then only one out of four provide their patients with information about end-of-life care.
And, who doesn't want to make informed choices? Whether we're buying a new car, home, or making another major investment, it pays to do your homework. In her book The Cost of Hope: A Memoir (2012), author Amanda Bennett recalls her husband's end-of-life journey and the myriad of procedures to which he was subjected while dying. Bennett suggests that he – and others – may have been better off with a "health coach", someone who works with patients and loved ones to understand their options and make the best choices.
Our staff at Family Hospice and Palliative Care hear the same comment all the time: "I wish someone had told us sooner about hospice."
Considering that our state has the third highest elderly population in the country (according to the U.S. Census Bureau's 2012 Statistical Abstract), Pennsylvania should follow the example set in Massachusetts.
Those discussions about drugs, alcohol, sex and more make a lot of sense. So too does legislation requiring doctors to engage in end-of-life care counseling with their patients. Contact your legislator and ask him or her to make end-of-life care a priority in Pennsylvania.
Rafael J. Sciullo, MA, LCSW, MS, is President and CEO of Family Hospice and Palliative Care and Past Chairperson of the National Hospice and Palliative Care Organization. He may be reached at [email protected] or (412) 572-8800. Family Hospice and Palliative Care serves nine counties in Western Pennsylvania. More information at www.familyhospice.com and www.facebook.com/familyhospicepa.