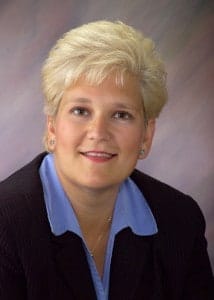 Maribeth McLaughlin, chief nursing officer and vice president of patient care services at Magee-Womens Hospital of UPMC, has been named chair-elect of the American Hospital Association's (AHA) Maternal and Child Health Governing Council. She will assume the role of chair in 2015.
The governing council is comprised of 14 senior executives from the nation's top women's and children's hospitals and health care providers. As a council member, Ms. McLaughlin will advise the AHA on public policy, advocacy and new issues in maternal and child health.
"The AHA leadership position will offer a tremendous opportunity to examine and analyze trends in women's health across the nation," said Ms. McLaughlin. "We'll share experiences with other members on everything from nurturing a healthier workforce – to specific clinical information, such as the elective induction of births."
"Passion for women's health is key to this role," said Leslie Davis, president and chief executive officer of Magee. "Maribeth is incredibly knowledgeable, well-positioned, and clearly viewed as someone to turn to for examples of best practices."
In addition, Ms. McLaughlin recently assumed the presidency of the Council of Women's and Infants' Specialty Hospitals, comprised of 13 non-competing hospitals with high-volume obstetrical care, which collaborate and share information about programs, best practices and national policy.
In her role at Magee, Ms. McLaughlin has been instrumental in promoting interdisciplinary partnerships, developing evidence-based policies and procedures and standards of care, facilitating continuing quality improvement programs and ensuring patient safety and compliance.
Ms. McLaughlin received her nursing degree from Duquesne University and her Master of Public Management from Carnegie Mellon University.
Magee-Womens Hospital of UPMC is a full-service women's hospital and includes a range of services for women and men: diagnostic imaging including CT and MRI, a Heart Center, bariatric surgery, orthopaedics, digestive disorders, comprehensive breast and gynecologic cancer services, pulmonology, thoracic surgery, minimally invasive abdominal surgery, vascular surgery, and a full-service emergency department. For more information, visit www.upmc.com/locations/hospitals/magee/.