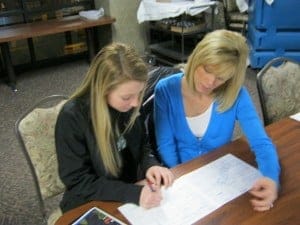 Jameson Hospital and The Moraine Trails Council have joined forces to create a Medical Careers Exploration Program for teenagers. The program is open to students in grades 9-12 attending school in Lawrence County, and will meet once a month during the school year. The next meeting is scheduled for February 9, 2012 at 7:00 p.m. and is currently open for enrollment.
At the February session, students will interact with a human simulation training mannequin named MetiMan and perform procedures such as blood draws, symptom diagnostics and various medical procedures. The focus of the program is to help provide students with an overview of careers in the medical and healthcare field. The program also gives students a quality understanding of the demands of the jobs and the educational requirements associated with various positions.
Neil Chessin, Vice President of Operations at Jameson Health System spoke at the January kick-off session. He highlighted Jameson Health System's effort to promote local healthcare within Lawrence County. He also spoke about the various avenues that an education in healthcare can lead to.
Jameson Health System's Director of Human Resources, Marcie Patton shares, "We have about 1,300 employees and over 250 different jobs. This program helps open student's eyes to different areas within health care and can plant the seed for career planning." Jameson Hospital staff and various medical professionals will interact, mentor and speak to the students about their occupations. As students gain knowledge and information, it will help them to make sound decisions for future education toward their career paths. A sampling of career fields that will be highlighted throughout the program include: various aspects of nursing, surgical services, medical imaging, lab, pharmacy and rehabilitation services.
Goals for the Medical Explorers include:
Gaining practical knowledge and experience in local healthcare
Engaging in a program of activities centered on career opportunities, life skills, service learning, character education and leadership experience to encourage the development of the whole person
Experiencing positive leadership and being given opportunities to take on leadership roles
This program will grant a unique opportunity for high school students to delve into a hands-on learning exploration while instilling the value of local healthcare provided at Jameson Hospital, the largest employer in Lawrence County and the primary source of healthcare in our local region.
For more information on joining the Medical Careers Exploration Program, call Marcie Patton at 724-656-4208.
Throughout the year, our writers feature fresh, in-depth, and relevant information for our audience of 40,000+ healthcare leaders and professionals. As a healthcare business publication, we cover and cherish our relationship with the entire health care industry including administrators, nurses, physicians, physical therapists, pharmacists, and more. We cover a broad spectrum from hospitals to medical offices to outpatient services to eye surgery centers to university settings. We focus on rehabilitation, nursing homes, home care, hospice as well as men's health, women's heath, and pediatrics.