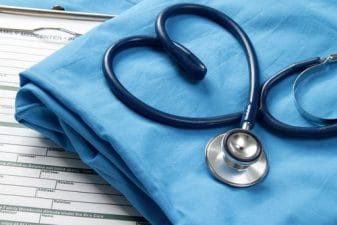 More and more, nurses are applying for their next jobs online. Disclosing your sensitive personal information over the Internet does put you at risk for a data hack from a malicious attacker, but there are steps you can take to make applying for your job safer.
The risks
While most online transactions, including job applications, are generally safe and secure, the fact remains that there are people out there who do nothing more than try to find a way to snatch your personal and financial data. In 2014, there were 317 million new pieces of malware created, and that number is expected to grow each year that goes by, according to an Internet Security Threat Report by Symantec.
And it's not limited to computers and websites. Apps are also routinely targeted. For example, research found that more than 50 percent of health apps don't have a privacy policy in place, and 20 percent neglected to encrypt crucial information, such as actual names, passwords and sensitive health information.
Identity theft is a valid concern. The U.S. Department of Justice refers to identity theft and identity fraud as crimes in which someone gains access to and uses another person's personal information in a fraudulent or deceptive way and for economic gain. This can lead to loans being taken out in your name, credit card debt and bankruptcy, all of which can result in disastrous personal financial loss and a severe mental toll.
So it's not a stretch to think that by entering in sensitive personal data on an online application form that you may be putting yourself, and your family, at great risk — just by applying for your next nursing position.
What you can do
For starters, before you begin an online application, you should ensure that the website where you're filling out the app is secure and safe. There are a few things you can look for on the website itself as well as the address bar that can tell you if you have a secure connection.
First, look at the address bar. While most web pages begin the web address with http://, a more secure connection will show that it is with https://. But please note: While this is better, it is not foolproof. For a better bet, enter the URL of the site you'll be entering your personal information to safeweb.norton.com or www.unmaskparasites.com. These sites will evaluate the URL for security vulnerabilities and their history of malware, which can damage your computer software and hack your information.
You can also note whether the site's security certificate is valid. Often, when it has expired or wasn't issued by a trustworthy certificate authority, a warning will pop up to let you know. When in doubt, back out and contact the hiring company to see if they have an alternative way to apply for a job. Often, businesses or institutions have on-site job application kiosks that allow you to apply using their tech, but if you're still concerned about your privacy, request a paper application.
If you've experienced the nightmare of identity theft, peruse this article from Lifelock that outlines some of the steps that you need to take — some immediately, and others later. Identity theft is a crime punishable by law, and law enforcement can and will help you take steps to recover from the devastating effects of such a situation.