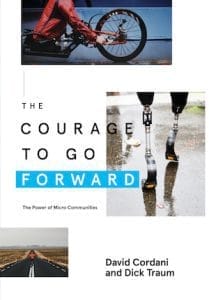 By David Cordani and Dick Traum
The current U.S. health care system was designed to take care of sick people instead of keep people healthy, which has helped instill a culture of passivity when it comes to taking care of our own health. We must do more – as individuals and families, as communities and as a society, to encourage all Americans to be proactive about their health in order to live healthier, happier lives, and to help transform the health care system into one that is personalized, supportive and connected.
We've seen improvement in overall health and well-being through the power of passionate, supportive, close-knit groups of people. We lead organizations committed to making meaningful differences in people's lives—Cigna, a global health service company dedicated to improving the health, well-being and sense of security of the people it serves, and Achilles International, a nonprofit that enables people with all types of disabilities to participate in mainstream running events—so, we've been fortunate to witness the power of personal connection firsthand both personally and professionally.
We call these groups micro communities, and they can help people achieve their health and wellness goals and deal with challenges throughout their health journeys. They can be organized and planned to help individuals over the long term, or they can be spontaneous gatherings responding to a moment in time. Just like our health care, each micro community is personalized responding to the goals and individuals that make up that group.
We're so passionate about the power of micro communities that we recently co-authored a book on the topic called The Courage to Go Forward.
The book profiles stories of micro communities formed by Cigna, Achilles and other groups to help a wide range of people, most of whom have overcome devastating physical and mental trauma by not going at it alone. For example, we profile Cedric King, who experienced major internal injuries, permanent loss to part of his right arm and hand, and the amputation of both legs in Afghanistan when an improvised explosive device explosion tore through his body in 2012. Less than two years later, with the support of his micro communities, he competed in a grueling half-Ironman competition, and has since completed two Walt Disney World Marathons, the Boston Marathon and a number of physically daunting events using prosthetic blades. Today, Cedric is also a motivational speaker, sharing his story with organizations around the country about the power of close-knit communities in helping him achieve what he never thought possible. 
Cedric among several other individuals, illustrate the power of micro communities and the impact they can have on overall health. So, we devised a step-by-step "recipe" featured in The Courage to Go Forward that clearly shows people how to form, implement, and sustain micro communities within their own organization to set and achieve goals they once saw as out of reach.
To start:
Define the Vision. The process for setting clear objectives and taking the steps to achieve them begins with establishing the vision: a true north point of direction that guides everyone on the journey.
Create a Strategy. Having a clear strategy defines how we are going to achieve our vision. Built into the strategy is a plan of action—the hard work and sense of purpose to get there.
Attract the Right Resources. We rely on our people, research and development teams, and other resources to help us build an infrastructure to get programs off the ground and sustain them over the long term.
Execute to Achieve the Plan. Once we define our aspirations and create a strategy, the ultimate difference between success and failure is our ability to execute and achieve the plan.
Overcome Obstacles. No matter how foolproof our recipe may be, we should always anticipate obstacles, setbacks, and a few stumbles along the way. Be prepared to adjust accordingly.
Expand and Grow. Just as recipes evolve when they are passed down through generations or modified with healthier ingredients, our basic recipe allows us to make improvements and expand the vision with new opportunities across more micro communities.
The six steps benefit and provide opportunities for everyone involved – the individual receiving the help and those in the micro community who are helping. It can be applied to multiple scenarios within and outside the health care system. Whether it's encouraging someone to accomplish a physical goal or to just overcome that next obstacle in your career, it's a powerful, communal experience that, like the results of any well-tested recipe, can be replicated time and again.
David Cordani is president and CEO of Cigna, a global health service company. He is an accomplished triathlete and running guide for disabled veterans.
Dick Traum is president and founder of Achilles International, a nonprofit enabling people with all types of disabilities to participate in mainstream running events. He was the first runner to complete a marathon with a prosthetic leg, when he crossed the finish line at the 1976 New York City Marathon.
All proceeds from The Courage to Go Forward support the programs and athletes of Achilles International. To learn more, visit www.CouragetoGoForward.com
Throughout the year, our writers feature fresh, in-depth, and relevant information for our audience of 40,000+ healthcare leaders and professionals. As a healthcare business publication, we cover and cherish our relationship with the entire health care industry including administrators, nurses, physicians, physical therapists, pharmacists, and more. We cover a broad spectrum from hospitals to medical offices to outpatient services to eye surgery centers to university settings. We focus on rehabilitation, nursing homes, home care, hospice as well as men's health, women's heath, and pediatrics.