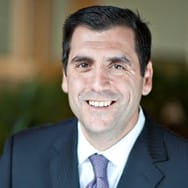 Highmark Blue Shield announced that Dan Tropeano has been named the organization's first ever Southeastern Pennsylvania segment president, a major milestone as Highmark plans to strengthen its statewide presence and community-focused service by offering a wide range of health insurance solutions in Southeastern Pennsylvania starting in 2024.
Highmark Blue Shield plans to offer customers located in Southeastern Pennsylvania a full suite of health insurance products and solutions including Medicare Advantage, Medicaid dual eligible, Individual Affordable Care Act, Small Group Affordable Care Act, Large Group Fully Insured, Large Group Self-Insured across 2024 and 2025, subject to regulatory filings.
"As Highmark Blue Shield, we've historically been a statewide company and the only Blue Shield licensee in Pennsylvania," said Tom Fitzpatrick, senior vice president, Commercial Business. "The continued evolution of the Blue Cross Blue Shield Association provides us a unique opportunity to enter into new markets and expand our presence in the markets where we already operate. This is a win for clients, members, brokers and providers in the five-county Southeastern Pennsylvania region, who will benefit by having greater choice of high-quality health coverage as well as new solutions to make the health insurance experience better."
"We have a long and successful history in Southeastern Pennsylvania through our diverse portfolio of businesses, including United Concordia Dental, HM Insurance Group, the Federal Employee Program, and Medicaid," Fitzpatrick said. "We're building on that work and expanding our existing relationships to deliver better health outcomes and value to all stakeholders across the Commonwealth. Dan has a proven track record of success in this region, is known to many in the industry, and is a resident of Southeastern Pennsylvania. We are very excited to have him lead our efforts."
A longtime leader and community servant in the Southeastern Pennsylvania market, Tropeano joins Highmark after a 15-plus year tenure with UnitedHealth Group. Most recently, he served as senior vice president and general manager of pharmacy benefit management company OptumRx, a UnitedHealth subsidiary. Previously, Tropeano served as the health plan CEO for Pennsylvania and Delaware.
Tropeano earned his BA from Villanova University. He currently serves on the executive committee and is the former chair of the Philadelphia YMCA, is a founding member and current board co-chair of the Pennsylvania Chapter of the American Cancer Society's CEOs vs. Cancer initiative, and is a member of the College of Nursing Board of Consulters at Villanova University. Tropeano formerly served as a board member of the Greater Philadelphia Chamber of Commerce and the Chamber's CEO Council for Growth, as a member of the Satell Institute, and as a board member of both the Greater Philadelphia Association of Health Underwriters and Insurance Federation of Pennsylvania.
"I am honored to join Highmark and even more excited that my neighbors and friends will get to enjoy the remarkable healthcare experiences that Highmark is known for," Tropeano said. "Highmark is on a mission to transform health care by providing a seamless, simpler and smarter experience—for our members and the clinicians who care for them. As we build on our existing presence in Southeastern Pennsylvania, we look forward to creating healthier communities together."
###
About Highmark Blue Shield
Highmark Inc., doing business as Highmark Blue Shield, serves approximately 1.1 million members through the company's health care benefits business and hundreds of thousands of additional individuals through the BlueCard® program. Highmark Blue Shield has significant commercial market share and strong Medicare Advantage membership [through certain of its affiliated Blue companies] as well. Through its affiliated Blue companies, all of Highmark's Medicare Advantage plans in Pennsylvania achieved the highest possible quality rating from the Centers for Medicare and Medicaid Services (CMS) – 5 out of a possible 5 Stars. Highmark Blue Shield is an independent licensee of the Blue Cross and Blue Shield Association, an association of independent Blue Cross and Blue Shield companies. For more information, visit www.highmark.com.
Throughout the year, our writers feature fresh, in-depth, and relevant information for our audience of 40,000+ healthcare leaders and professionals. As a healthcare business publication, we cover and cherish our relationship with the entire health care industry including administrators, nurses, physicians, physical therapists, pharmacists, and more. We cover a broad spectrum from hospitals to medical offices to outpatient services to eye surgery centers to university settings. We focus on rehabilitation, nursing homes, home care, hospice as well as men's health, women's heath, and pediatrics.