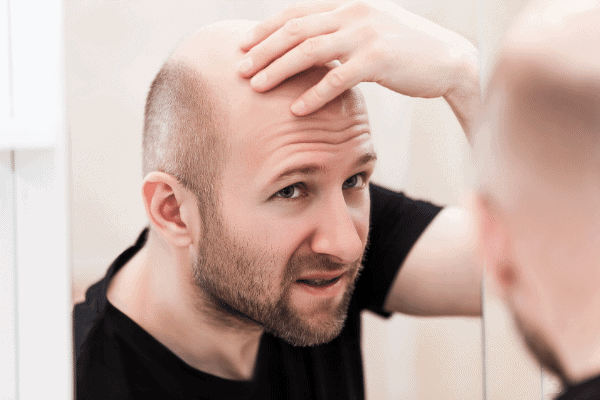 Balding is a big problem for many men and women around the world. Effectively treating this pain point isn't cheap. But for those who just aren't ready to go full-on bald yet, hair loss medicines, micropigmentation, and transplants are worth spending for. This article discusses these three treatments and how they help with balding.
Balding can affect different people at different stages of their lives. For men, the signs of balding can appear as early as their 18th year of life. Some experience balding much later. The lucky ones can experience balding only when they are seniors! Early balding can be very detrimental to one's self-esteem, so much so that they start resorting to treatments like scalp micropigmentation and even hair transplant.
The signs of balding don't come suddenly. Most of the time, people don't notice them until there is a significant change in the thickness of their hair. However, early detection of these signs means early treatment – giving one the best chances of getting a full head of hair back.
The signs of balding are:
Gradual thinning on the top most of head.
Circular or patchy bald spots.
Excessive hair-fall.
Receding hairline.
Balding can be caused by a number of factors. In reality, anyone can lose hair on their head. Men are more susceptible to balding because of the hormone testosterone – a hormone that men naturally have more of than women.
The most common cause of hair loss is heredity. If one's family has a history of hair loss and balding, then they will almost certainly experience hair loss and balding as well. Other causes include:
An increase in testosterone makes one more likely to experience hair loss and balding.
Alopecia areata is a medical condition that causes hair loss by destroying hair follicles.
Hair loss can also just be due to the normal process of aging.
Because hair loss and balding is such a common problem, there are plenty of shampoos, creams, gels, and rinses that claim to prevent hair loss or even help thicken hair. While these products can have some effect, they are not as effective actual hair loss and balding treatments and medication like Minoxidil.
Some of the most common and sought after treatments include medication, micropigmentation and hair transplants.
About Scalp Micropigmentation
Scalp micropigmentation or SMP is more of a cover up than an actual treatment. But it's an effective cosmetic solution that can quickly resolve self-image issues and self-esteem problems caused by hair loss.
SMP is a permanent tattoo that can cover up bald patches or can make someone's entire bald head look like it just has shaved or buzzed hair. It basically gives the illusion of hair. And sometimes, that's all someone needs to feel better about themselves.
While this is a permanent solution, some people may need touchups or hair line changes every now and then. Its permanence does not mean that people can't change their "hairstyle" if they want to.
Benefits
Covers up scars from wounds or even from failed hair transplant surgeries.
Covers up burns and birthmarks.
Gives the illusion of a full head of hair.
Makes hair appear thicker.
Can be adjusted later on to change hair lines depending on the client's taste.
Permanent covering up of alopecia symptoms.
Can work for people with any hair type or skin tone.
About Minoxidil
Minoxidil is a type of medication that is used to encourage hair growth to treat male-pattern and even female-pattern baldness.
Those under 18 years of age cannot use this medication. But those who can must follow the instructions carefully.
Minoxidil has helped many people achieve hair regrowth. Some men even use this medication to grow facial hair (although it's not medically advised to do so).
While Minoxidil has been proven to help with hair loss, it's not a quick solution. It will take time for hair to regrow. Most Minoxidil users must use this consistently for at least 4 months before they are to see results. To add to that, users have to continue using this for maintenance even after they have achieved their desired results.
Side Effects
Like all medication, Minoxidil has a number of side effects. First time users can experience burning and stinging upon application. Some redness is also to be expected. Any lasting burning, stinging, or redness is not normal and Minoxidil use must be discontinued.
It's rare for Minoxidil to be absorbed into the skin and cause more serious side effects. However, if one experiences the following, its use should be discontinued:
Dizziness
Irregular heartbeat
Chest pain
Difficulty breathing
About Hair Transplants
A hair transplant treatment is expensive and would involve surgery. This treatment involves a plastic surgeon taking hair follicles from one area of the head and plants them on bald patches or wherever the clients wants or needs to have hair.
Depending on the amount of coverage they need or desire, people suffering from hair loss and baldness can choose from two types of hair transplant procedures: slit grafts and micro-grafts.
The only difference between the two procedures is the amount of hair that a graft contains. A slit graft contains 4 to 10 hairs per graft. A micro-graft, on the other hand, only contains 1 to 2 hairs per graft.
When it comes to the actual procedure, surgeons can go through it two ways: through follicular unit transplantation (FUT) and follicular unit extraction (FOE).
The basic idea is that these follicles are surgically taken out of one area. Through FUT, strips of hair follicles are taken. Through FOE, follicles are taken out one by one. The follicles are then surgically placed in bald patches the same way.
This procedure can be quite time-consuming. One hair transplant session can take at least four hours. Depending on one's bald patches, three or more sessions, each spaced several months apart, may be required to achieve the best results.
Even after this treatment, hair growth is still not guaranteed. It's best supplemented with medication like Minoxidil to help encourage hair growth.