By Elizabeth Pagel-Hogan
Physicians face many struggles today, from financial concerns, to not seeing enough patients, to not caring for patients the way they want, to recruiting new physicians. Many times Electronic Medical Records (EMR) will help solve these and other challenges.
For over six years, physicians have been turning to Janice Devine at Devine Medical Practice Consulting hoping she will wave her EMR magic wand and solve their problems.
"One of the first things I have to tell them is that if you don't have a well-run practice, an EMR will hurt you," she says.  "Having sound operations and standardization are the keys."
Devine works with single physicians to larger doctor groups and shares her 25-plus years of physician practice operations expertise. Early in her career, she worked at Jefferson Regional setting up newly recruited physician in their own practices. She then moved to Highmark where she was Operations Director for 400 physicians and four primary care centers. At West Penn Allegheny Health System, she prepared them for the implementation of EMR into their primary care network of 145 physicians.
Devine opened her own consulting company with the goal of implementing EMR but 50 percent of her business is still in operational management and evaluation of physician practices.
"EMR is merely a tool," she explains. "If you don't run well on paper, you'll be a disaster on EMR."
Clients are typically struggling by the time they seek out Devine's company. An EMR implementation may fail due to lack of planning, not understanding the changes necessary in workflow, and minimal training. Other times, a practice may not have a strong IT infrastructure and is not equipped to handle a whole new level of cost, and security involved in maintaining  electronic records.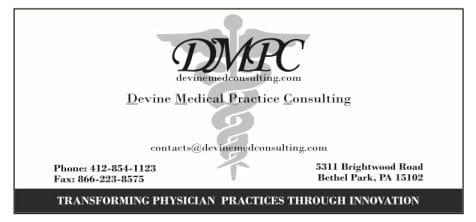 Devine always cautions her customers that an EMR implementation is a big undertaking. In fact, it's probably the single biggest financial investment physicians will make in their practice besides their training—and that they should not underestimate the costs and time involved to learn their new system. As she educates practices looking at an EMR, Devine also warns that some staff members may not have the skills, desire, training, or background to be successful in an EMR environment. This is just one of many ways that Devine can help a practice. Her services include an assessment of the current staff's skill levels and the practice's overall operations.
"We go in to see how computer literate they are to  estimate how the training will go. Some people don't want to learn but they have to understand this is how the practice will function moving forward," Devine says.
Devine currently sees a huge gap in medical staff training when it comes to EMR.
But once all of those issues are on the table—the costs, time, staff training and new workflows —Devine says that positive change can happen. Right now, change is the constant that Devine sees in healthcare.
"When I speak to hospital boards and administrators, I try to help them see that the physician of today is not the old physician. They don't have the willingness to give up their social life and family or go into private practice. Money isn't their main motivation," explains Devine. "Patients are changing as well; patients are a little more informed and are consumers. They want convenience and the technology."
Devine also reminds hospital administrators that an EMR is essential to recruiting new doctors from a new generation to their group.
"New physicians are being trained on EMR; they don't know how to do paper," explains Devine. "They want to be mobile and text orders to staff. EMR is the tool to help you do those things."
Finally, Devine tells her clients that EMR will help them in the new landscape of healthcare.
"You can't show you're a good player in an ACO if you can't produce your data and show patient compliance and outcomes. You cannot show that with a paper record," she says. "But the good news is that when I get a doctor successfully on an EMR, I've never had one want to go back to paper. The doctors and staff say, 'wow how did we do this all these years on paper?'"
For more information, visit www.devinemedconsulting.com.