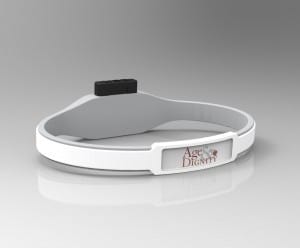 The nurse put her hand on her hip and addressed Karen Schaeffer's mother sharply as the older woman tried to recall and write her medical history during a holiday emergency room visit.
"'You shouldn't be traveling without your medical history,'" Schaeffer recalled the nurse saying. "'There's just too much of it.'"
That incident at a Pittsburgh-area hospital came to Schaeffer's mind when she learned about the CARE Medical History Bracelet, a small flash-memory device that carries a patient's complete medical history and can be plugged into a computer to help physicians and first responders during a medical emergency.
"The Bracelet speaks for the person who wears it," Schaeffer said, "and having that information immediately available can save lives and transform medical services for seniors," Schaeffer said.
When a new version of the bracelet – CARE Medical History Bracelet 3.0 – was made available for distribution earlier this year, Schaeffer leapt at the opportunity. The owner of Age & Dignity LLC, a Wexford-based consulting firm that helps families determine the best long-term care solutions for seniors and their loved ones, now has the exclusive distribution rights for the 3.0 version in 17 southwestern Pennsylvania counties.

"The CARE Medical History Bracelet is the missing link that closes information gaps between patients and caregivers on the one hand, and health-care providers on the other," Schaeffer said. "It promotes patient empowerment and safety, and supports a consumer-driven health care system in which patients and caregivers take an active role in care management."
The 3.0 version, which is also available as a key chain and a wallet-sized card, can store all of a patient or family's medical history, Schaeffer said.
"I see a day when people carry a bracelet or other CARE Medical History device for routine doctor's appointments, business trips or family vacations," Schaeffer said. "A hospital or first responder would know instantly about allergies, asthma, diabetes and the drugs the patient uses. This device will save lives."
In her role as a health-care consultant, Schaeffer also noted that CARE Medical History Bracelets are an innovative care-management tool for medical practices, hospitals, paramedics, continuing-care communities and other institutions.
"When I think about my mother's experience, knowing all of the medical conditions she had, and all the medications she took, think about how much time could have been saved if she just handed a bracelet to the nurse and, presto, all that information was right there," Schaeffer said. "With instant access to the critical information stored on the bracelet, providers and institutions can save lives and help reduce the risk of mistakes."
Schaeffer said CARE Medical History Bracelets can also help prevent harmful drug interactions; prevent duplication of tests and medical procedures; promote preventive health care; and provide patient education.
Unlike earlier versions, the CARE Medical History Bracelet 3.0 runs on both Windows or Macintosh computers and doesn't require downloading to a hard drive, Schaeffer noted. Its software can be customized and pre-loaded for institutional clients, she added, and the bracelets, which come in five sizes and seven colors, can also be branded for institutions for promotional purposes.
The bracelet, made of a safe, durable resin, carries its USB flash memory device packaged in an easy-to-use and wear band, Schaeffer explained. It allows for easy access to and downloading of medical information via any computer with a USB port and can be programmed for read-only access to ensure the security and privacy of the information.
Schaeffer pointed out that the Affordable Care Act of 2010 requires physicians to keep electronic medical records for their patients. While many health-care providers have converted to electronic record keeping, their computer systems have not been able to communicate directly with other providers. The CARE Medical History bracelet bridges the "computer inoperability" gap by allowing the patient or caregiver to bring up-to-date, accurate records from provider to provider.
Age & Dignity LLC, is the first and only Pennsylvania distributor of the CARE Medical History Bracelet 3.0 and related devices.
Founded in 2010, Wexford-based Age & Dignity LLC (www.ageanddignity.com)  is the exclusive distributor for CARE Medical History products in 17 Southwest Pennsylvania counties: Allegheny, Armstrong, Beaver, Butler, Cambria, Clarion, Crawford, Fayette, Greene, Indiana, Jefferson, Lawrence, Mercer, Somerset, Venango, Washington and Westmoreland. 
The device is manufactured by GC Publishers of San Antonio.
Throughout the year, our writers feature fresh, in-depth, and relevant information for our audience of 40,000+ healthcare leaders and professionals. As a healthcare business publication, we cover and cherish our relationship with the entire health care industry including administrators, nurses, physicians, physical therapists, pharmacists, and more. We cover a broad spectrum from hospitals to medical offices to outpatient services to eye surgery centers to university settings. We focus on rehabilitation, nursing homes, home care, hospice as well as men's health, women's heath, and pediatrics.